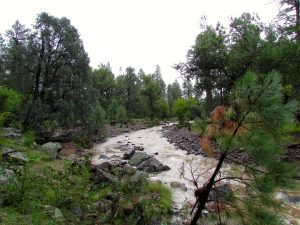 Groups, Citizens Sound Support for Conservation Initiative After San Juan County Adopts Anti-30×30 Resolution
Today, five organizations and citizens expressed their support for a federal conservation effort, known as the America the Beautiful initiative or 30×30, following a vote by the San Juan County Board of County Commissioners opposing 30×30.
In a 4-1 vote on Tuesday, the San Juan County Board of County Commissioners approved a resolution opposing the Biden administration's America the Beautiful 30×30 conservation initiative, and Governor Lujan Grisham's companion initiative for New Mexico, until "more information can be obtained regarding their effect on land ownership and usage in San Juan County."
Commissioners Michael Sullivan, Steve Lanier, Terri Fortner and John Beckstead supported the resolution and Commissioner GloJean Todacheene opposed it.
The 30×30 effort is a science-based effort to conserve 30 percent of U.S. lands and waters by 2030 to mitigate climate change impacts and preserve biodiversity. Since the Biden administration released its 30×30 executive order in 2021, some state leaders, including in New Mexico, have expressed their support for its climate objectives by committing their states to conservation goals in line with the 30×30 effort.
Commissioner Todacheene has been the sole supporter of 30×30 on the San Juan County Commission, and ensured that the commissioners heard from 30×30 proponents before considering a resolution.
Statements from Organizations: 
"Despite this disappointing vote, we applaud the leadership of Commissioner Todacheene in supporting 30×30. We're committed to working with Governor Lujan Grisham and Interior Secretary Haaland to advance the 30×30 initiative to protect our environment, local economies, public health and climate future," Western Leaders Network Executive Director Gwen Lachelt said. "In a report released this week, the Intergovernmental Panel on Climate Change said it's 'now or never' to address our climate crisis. Embracing efforts like 30×30 give us the tools to tackle this challenge head-on."
"Once you scar the landscape and contaminate the water and taint the sky, you threaten what the future holds for the next generations," said Norman Norvelle, Farmington resident and Sierra Club Northern New Mexico Executive Committee member. "Loss of nature in New Mexico is the loss of much more than a blue sky or an enchanted wild river — it is the death knell of a sustainable, healthy homeland. No one is 'entitled' to take that away from the people of this state. If we are going to promote the local outdoors and outdoor activities in the San Juan Basin, we need to do the 30×30 plan."
"New Mexicans across the state overwhelmingly support safeguarding our vulnerable landscapes and watersheds, with 80% supporting the 30×30 goals. It's unfortunate that San Juan County Commissioners instead chose to embrace fear and misinformation from out-of-state interest groups," said Greg Peters, Senior Advocate, Lands, Water, & Wildlife for Conservation Voters New Mexico. "We remain committed to building a community-driven, uniquely New Mexican roadmap that honors and collaborates with essential stakeholders such as tribal nations and private landowners. We are grateful for Commissioner Todacheene's efforts to ensure local voices were a part of this conversation and for her support of the 30×30 goals."
"The dual crisis of climate change and mass species extinction can't be wished or redefined away. Saying 'no' is not a strategy, and I think it is the obligation of local, elected leaders to hear all sides, know the facts and provide opportunities for real dialogue before being cowed by fearmongering and baseless assertions by those coming into New Mexico to make a buck by dividing us," said Mark Allison, Executive Director of New Mexico Wild. "The irony is that action isn't just urgently needed, it is also an opportunity for San Juan County to look at locally driven solutions to attract investment, grow the local outdoor recreation economy, steward public lands, help private landowners mitigate the effects of drought, and secure resources for restoration and wildlife habitat. We're ready to help when the commission gets serious about leading."
"Hunters and anglers in New Mexico recognize that the biggest threat to the future of these activities is the loss of wildlife habitat," Jesse Deubel, Executive Director of the New Mexico Wildlife Federation said. "In developing the goal of protecting 30 percent of our land and water, America the Beautiful is an initiative that will prevent habitat loss and support robust populations of wildlife. Whether we're talking about fly fishing the world famous San Juan River, or pursuing mule deer in one of the most coveted units in northwest New Mexico, 30×30 is the insurance policy we need to provide our children and grandchildren with these same opportunities. The New Mexico Wildlife Federation stands with hunting and angling organizations from across the country as we work together as members of the Hunt Fish 30×30 coalition to support and advance this critical work."
###