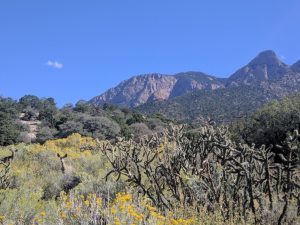 New Mexico Wild issues letter calling for BLM to audit inactive oil and gas wells and associated leases on public lands
Data reveals that BLM may be mismanaging thousands of long-term inactive wells throughout state, to the detriment of New Mexico's communities and public lands, waters, and wildlife
ALBUQUERQUE, N.M. (April 6, 2022) – New Mexico Wild has issued a letter to the New Mexico Bureau of Land Management office urging the agency to conduct an audit of inactive oil and gas wells, along with associated leases, throughout the state that have not been properly plugged or reclaimed. The letter requests that the audit determine whether the identified wells are in violation of legal requirements. According to data from the New Mexico Oil Conservation Division (OCD), as of March 17, 2022, there were nearly 6,000 wells that have not produced oil or gas in over a year, including over 2,600 on federal lands. More than 100 of these federal wells have been inactive for 15 years or longer.
In addition to calling for an audit of the inactive wells, the letter requests that BLM refrain from processing and/or authorizing any applications for permits to drill, rights-of-way, or other activities related to exploration and development of the leases identified until the agency is able to determine which leases should be cancelled. Additionally, the letter outlines steps that the Biden Administration and Congress can take to provide long-term fixes to this widespread problem.
"With the climate and extinction crises worsening, the number of inactive wells in the state is staggering," said Mark Allison, Executive Director at New Mexico Wild. "For too long, the oil and gas industry has lined its wallets at the expense of our lands, wildlife, and water sources. Given the Biden administration's commitment to slowing the affects of climate change, now is the time to act. It is our hope that this letter will help BLM officials identify inactive wells that need to be cleaned-up immediately, along with leases that were unlawfully issued to bad actors."
The analysis in the letter focuses on three types of wells: orphaned wells, wells with expired temporary abandonment (TA) authorizations and wells with rubberstamped TA authorizations. A wide range of companies operate these wells and/or own an interest in underlying leases, including Chevron, Devon Energy, EOG Resources, Hilcorp, Occidental, and XTO. The analysis in the letter found that BLM routinely leases to companies responsible for inactive wells despite these potential violations.
Below is a list of resources regarding the violations:The letter issued to New Mexico's BLM officeFrequently Asked QuestionsA map of leases in northwest New Mexico with potential violationsA map of wells in northwest New Mexico with potential violationsA map of leases in southeast New Mexico with potential violationsA map of wells in southeast New Mexico with potential violations
###