"Here, then, is the heart of conservation. Keeping Wilderness and wildlife free, hale, and hearty is about letting beings be, about growing the goodness of self-braking that lets land and living beings have their own will."
~Dave Foreman, from his essay Wild Things for Their Own Sake
It would be difficult to overstate the contributions Dave Foreman, Co-Founder of New Mexico Wild, made to protecting Wilderness and wild things, and for advancing – years ahead of his time – concepts like rewilding. From his days as a Co-founder of Earth First! to his vocal work preserving sky islands and the development of the rewilding movement, Dave's legacy as an eco-warrior forged a deep and rugged path through wilderness conservation and activism. Dave was most recently the founder of the Rewilding Institute. His vision was one of a rewilded North America, filled with "many-fold, tangled life not hobbled by Man's will."
Conservationist and author Terry Tempest Williams wrote this about Dave:
"His spirited voice, raised fist, and memorable gestures including the unrolling of a black crack on the Glen Canyon Dam —alongside his writings as an eco-philosopher and his work with the Rewilding Institute — his legacy will live on. The FBI identified him as an 'eco-terrorist.' In his words, 'I hope I am a danger to the attitude that the Earth is a smorgasbord for human beings.' A passionate defender of wild lands and wild lives, Dave made us all braver in our activism and showed us what appears 'radical' is actually conservative in the importance of speaking the truth about protecting the planet. Foreman embodied the seriousness of true commitment with humor and conviction. He was fearless and he was eloquent. His heart was huge, and his vision was clear, 'We are trying to help the evolution of Mother Earth to continue.' The wolves must be howling about now in the New Mexico wilderness where his wish is to happily decompose back to Earth."
A charismatic speaker and prolific writer, Dave published hundreds of essays, articles, and several books, including Rewilding North America; The Lobo Outback Funeral Home: A Novel; and Take Back Conservation.
Dave made what was probably his final public speech at the annual New Mexico Wild 25th Anniversary Celebration in April of this year. Even though Dave was a little under the weather, he stepped up to address our large group of Wilderness supporters.  With the same vigor and energy he brought to founding the conservation movement, Dave wholeheartedly thanked all of us for helping to save his favorite place on earth, New Mexico.  Ever the inspiration, Dave could always be counted on to bring the absolute best of his wildling heart to every effort. It was a transformative moment for us all.
The Dave Foreman Wilderness Defenders Program
In the spirit of Dave's love of wild places, we're seeking volunteer Wilderness Defenders who will cultivate relationships with designated natural areas in New Mexico, helping to monitor Wilderness values and conditions. This information will be incredibly useful as we continue to advocate for greater levels of protection. With more than 36 million acres of public land in the state, we can use as many boots on the ground as possible.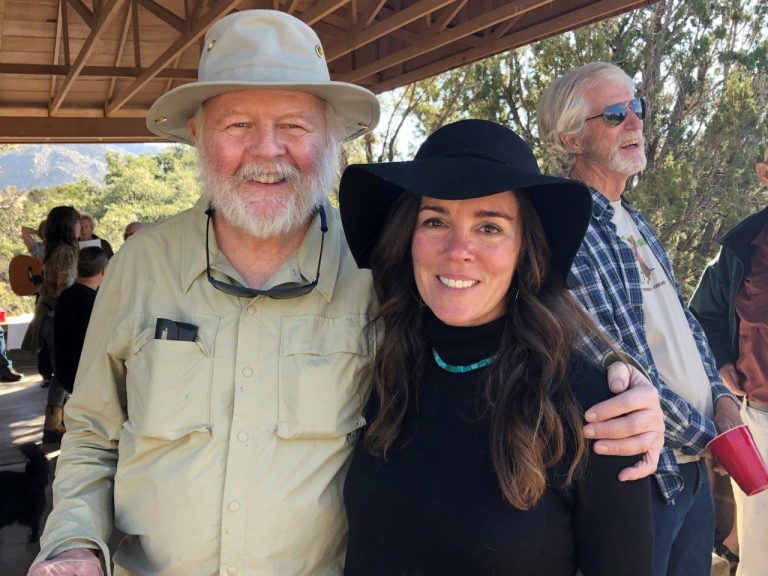 Dave Foreman with New Mexico Wild Deputy Director Tisha Broska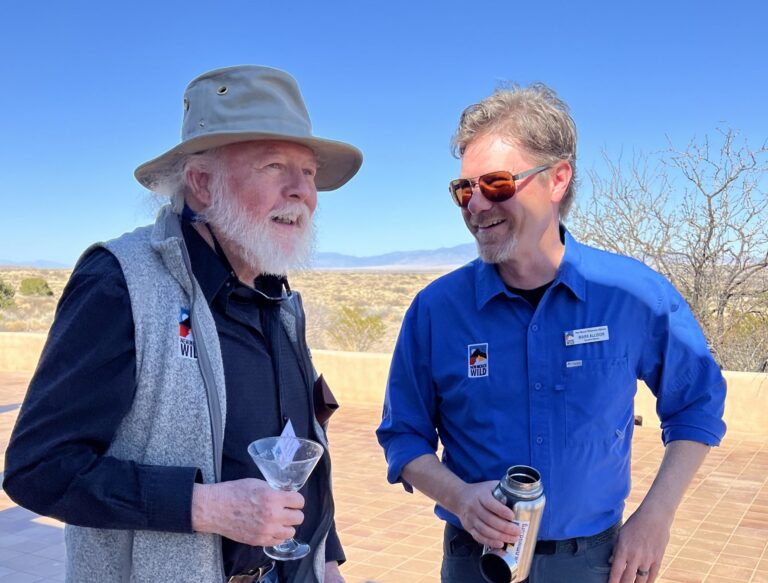 Dave Foreman with New Mexico Wild Director Mark Allison
We invite you to help us celebrate Dave's wild legacy by sharing your thoughts and memories about Dave below.