Why is New Mexico Wild creating the new Dave Foreman Wilderness Defenders program?
Gathering information on the condition of wildlands is the goal of our Wilderness Defenders. We plan to use volunteers to provide New Mexico Wild and public land agencies with current information regarding selected locales that are often difficult to reach without a good hike. For example, volunteers will visit Wilderness Study Areas that may warrant new designations or protections. With more than 36 million acres of public land in the state, we can use all the boots on the ground that are available. Over time, we hope to build the Wilderness Defender volunteers to over 100 members.
We've been proud to field a small corps of Wilderness Rangers over the past five years in partnership with the US Forest Service. This new program will provide substantial additional scale. In addition, Wilderness Defenders can monitor public lands not managed by USFS.
Prior to registering, please fill out the following information regarding your experience in the backcountry and with collecting data. It is important to be as honest as possible as this will help us pair you with the right project with the Wilderness Defenders. Even if you have little to no experience, we will have something for you.
Dave Foreman's Wild Legacy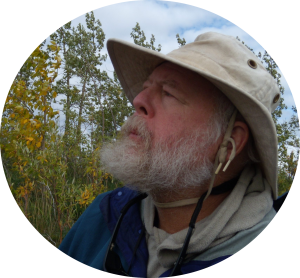 "Here, then, is the heart of conservation. Keeping Wilderness and wildlife free, hale, and hearty is about letting beings be, about growing the goodness of self-braking that lets land and living beings have their own will."
~Dave Foreman, from his essay Wild Things for Their Own Sake
It would be difficult to overstate the contributions Dave Foreman, Co-Founder of New Mexico Wild, made to protecting Wilderness and wild things, and for advancing – years ahead of his time – concepts like rewilding. From his days as a Co-founder of Earth First! to his vocal work preserving sky islands and the development of the rewilding movement, Dave's legacy as an eco-warrior forged a deep and rugged path through wilderness conservation and activism. Dave was most recently the founder of the Rewilding Institute. His vision was one of a rewilded North America, filled with "many-fold, tangled life not hobbled by Man's will." Learn more about Dave's wild legacy here.
End of Year Reports
At the end of each year we compile a report summarizing all the valuable data our volunteer Wilderness Defenders collected for us over the course of the previous 12 months. This report is a general overview of the wildland areas monitored based on data collected and trip reports submitted by Defenders and will be used to inform our work moving forward.