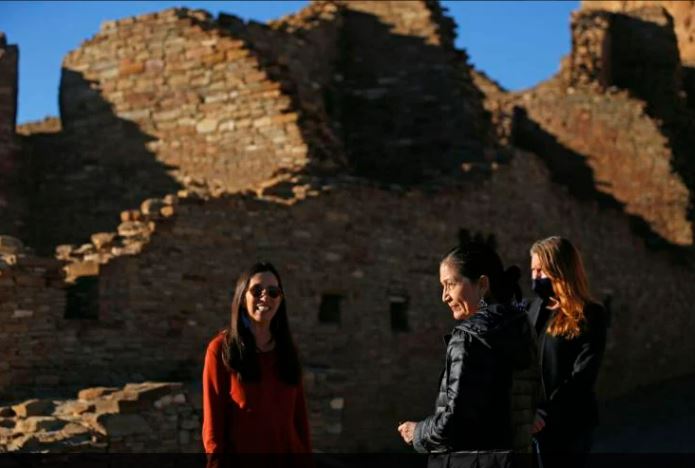 By Scott Wyland – Santa Fe New Mexican
This Editorial is property of the Santa Fe New Mexican. The original version is available here.
Interior Secretary Deb Haaland on Wednesday gave a glowing assessment of her first year in office, touting unprecedented actions by her agency to help Indigenous people and the conservation efforts that tie into the Biden administration's larger environmental policies.
Haaland, the first Indigenous woman to serve as secretary of the interior, said her New Mexico heritage is at the core of her policymaking, whether it's to offer aid to Indian Country, combat climate change or assist drought-stricken regions.
"I bring my New Mexico roots to work every single day," Haaland told reporters on a conference call. "Where I come from, I am no stranger to water scarcity, risks of wildfire and the reliance on the land."
Some of the accomplishments she highlighted, such as expanding tribal land protections, have drawn criticism from the fossil fuel, mining and timber industries, which view the increased restrictions on extraction as slicing into vital commercial activities.
Haaland's first year included launching an investigation into the deaths of Indigenous children at boarding schools that were created to assimilate them. She outlined the initiative in June and said Wednesday a progress report is due in the coming month.
The work on boarding schools will include compiling and reviewing records to identify past schools, locate known and possible burial sites at or near those schools, and uncover the names and tribal affiliations of students, Haaland said.
She also pointed to her recent decision to designate "squaw" as a derogatory word and have the term replaced on geographic features on public, private and tribal lands.
Haaland credited the White House for conservation measures she strongly backed that benefited Indian Country, such as restoring Bears Ears National Monument to its former size and moving to ban federal oil and gas leasing in a 10-mile zone around Chaco Culture National Historical Park.
Last year, the White House held the first Tribal Nations Summit since 2016. From this conference came commitments that are being implemented, such as increased engagement with tribal leaders, protection of sacred sites and efforts to restore Native languages, Haaland said.
"This has been a big first year in the Biden-Harris administration — for Indian Country particularly," Haaland said. "There are some incredible moments that will be part of our collective memory for generations to come."
Haaland said her agency is assisting President Joe Biden's broader efforts.
One is the infrastructure law that is funneling billions of dollars to states for improving bridges, roads, broadband capability and water systems, she said.
Another is the president's "America the Beautiful" initiative that calls for restoring and protecting 30 percent of the nation's public land and water by 2030, Haaland said.
Gov. Michelle Lujan Grisham followed suit with an executive order to preserve 30 percent of public lands for conservation, with an additional 20 percent to be used as climate stabilization areas.
Haaland said the "30 by 30" initiative is more than a number.
"It's building on the nation's best conservation tradition," Haaland said.
Agency teams are working with local, state and tribal leaders as well as ranchers, farmers and rural community groups to fulfill this mission, she said. Haaland was joined on the conference call by fellow New Mexican Tanya Trujillo, an assistant secretary for water and science at the Interior Department. Trujillo outlined investments in water infrastructure that she said will help build resilience in the system and ensure there's enough for the natural environment that relies on it.
An Indigenous advocate applauded Haaland's work.
"For her first year, she's making headway, and I think she is upholding her promise to Indigenous communities as best as she can," said Corrine Sanchez, executive director of Tewa Women United.
As the first Indigenous woman to hold a Cabinet position, Haaland was bound to draw more scrutiny, Sanchez said, because that always happens to those who break barriers. "She definitely had an uphill climb to get to where's she at, and to be able to implement what she's wanting to implement," Sanchez said. "I think she's been graceful under fire."
Bringing to light the boarding school abuses is "huge," Sanchez said. "It's such a big part of this country's history."
One of Haaland's strengths has been her ability to garner support from various agencies that see her as a listener and someone who genuinely cares about what they think, said Charles Wilkinson, a professor of Indian law at the University of Colorado.
Haaland, a fierce advocate for Bears Ears, was likely a strong, influential voice in encouraging Biden to restore the monument to its original size, Wilkinson said.
"She was very constructive," Wilkinson said. "And for traditional reasons, cultural reasons, her love of the land."
An environmental group gave her high marks for backing the Chaco buffer zone, assisting Biden's push to protect 30 percent of the nation's public lands by 2030, and meeting with tribes across the country to get their input. "Moving forward, we would love to see more official protections for federal lands under Interior management," Joey Keefe, a spokesman for New Mexico Wild, wrote in an email. "We are confident Secretary Haaland will continue to be a good ally in this effort."
Haaland said she and the president are trying to persuade fossil fuel companies to use their existing permits to drill for more oil in the face of rising gasoline prices.
There are 4,355 oil and gas permits in New Mexico waiting to be used, Haaland said.
Looking ahead, she said, her agency will work to reform oil and gas programs, which she called "broken."
"Every piece of public land belongs to every American, and it's our job to make sure we get a fair return, protecting the environment … for all Americans," she said.
This editorial first appeared in the Santa Fe New Mexican. It was written by members of the editorial board and is unsigned as it represents the opinion of the newspaper rather than the writers.