New Mexico Wild tackles an unprecedented conservation goal: 30X30
Protection Campaigns
30x30 Campaign
On August 25, 2021, Governor Michelle Lujan Grisham signed an executive order calling for New Mexico to protect 30% of its land and waters by the year 2030, joining a national initiative to combat climate change. The order directs the heads of several relevant state agencies to form a task force that will be charged with finding ways to meet these ambitious conservation goals.
As one of his first acts in office, President Biden outlined a vision for how the United States can work collaboratively at the grassroots level to conserve the country's lands, waters, and wildlife. What is being called the 30X30 plan nationally is an ambitious effort to conserve 30% of U.S. lands and waters by 2030. The plan understands that conservation at this scale must link local, state, and national efforts. At New Mexico Wild, we've been doing that for forty years developing trusted relationships with broad and diverse coalitions of stakeholders, including businesses, acequias, communities of faith, hunters and anglers, Pueblos, Tribes, NGOs, traditional communities, and all levels of government.
We're committed to leading the effort to achieve the 30X30 goals for New Mexico and will make this central to our work for the coming years. Our state is an ideal "laboratory" for demonstrating how to achieve these goals. Today, only 6% of our state lands and waters have some form of protected status. To get to 30% in the next decade will require thinking bigger, thinking smarter, and working harder. We're ready to do that and welcome your support.
The ambitious goal of conserving at least 30% of our lands and waters by 2030 is driven by the challenges we face and hear about regularly: Climate change. Clean and abundant water. Threats to wildlife and biodiversity. Preserving scenic beauty. But there are other important factors in a 30X30 goal including providing more inclusive access to public lands, earning support from communities directly dependent on natural resources, and even reducing the risk of future pandemics.
News Update
By Jeff Witte & Sarah Cottrell Propst Ruidoso News | October 26, 2021 New Mexicans have strong ties to the land. From ancestral farming to
Read More

New Mexico Wild plans to scale up its efforts in the coming years to meet the challenge of 30X30.


In the case of rivers in our state, only about one tenth of one percent, or 124 miles out of a total of 108,014 miles, of New Mexico's rivers and streams are protected through a federal Wild & Scenic Rivers designation.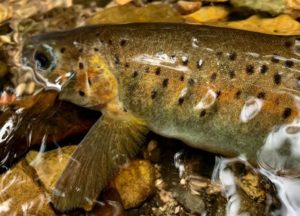 Impact for our Efforts
Despite the current political challenges, we're proud of the legislative and regulatory victories that have been achieved.