On Friday, July 23, New Mexico Wild participated in a great public lands event to celebrate the 9,855 acre addition to the Sabinoso Wilderness southeast of Las Vegas, NM. The event was headlined by Secretary of the Interior Deb Haaland, Senators Martin Heinrich and Ben Ray Luján, and Representative Teresa Leger Fernandez.
Congress designated the Sabinoso Wilderness in the Omnibus Public Land Management Act of 2009. The 16,030-acre area is managed by the Bureau of Land Management's Taos Field Office. The land was completely landlocked by private land until 2017 when the Wilderness Land Trust purchased the Rimrock Rose Ranch and donated it to the wilderness, creating the first public access and expanding the wilderness.
In March 2021, The Trust for Public Land (TPL) purchased 9,855 acres adjacent to the wilderness on the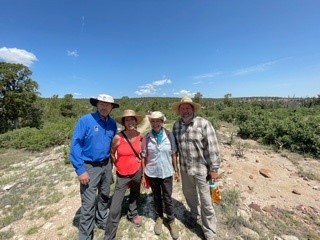 west side of the existing Sabinoso Wilderness, formerly known as Hobo Ranch. In early July 2021 TPL donated the parcel to the Bureau of Land Management. The donation of the area known as Cañón Ciruela increases the size of the wilderness area to 29,855 acres. The addition of the Cañón Ciruela lands to the Sabinoso Wilderness will add a second public access point for present and future generations to enjoy the area through hunting, hiking, horseback riding and other recreational opportunities.
Additionally, the donation will permanently protect a critical tributary watershed that feeds into the existing wilderness. The Cañón Ciruela tract will be officially open to the public as soon as BLM finishes building a parking lot and trailhead at the edge of the new wilderness area.
Sabinoso can still be accessed through the Rimrock Rose tract at Trujillo, NM. We want to say thank you to our congressional delegates (and their amazing staff), Secretary Haaland, the Trust for Public Lands, the New Mexico Wildlife Federation, BLM staff, and all the other folks who worked to make this happen!