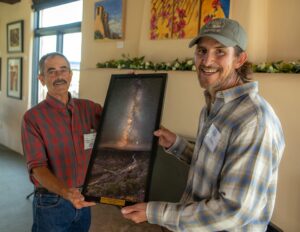 By Ernie Atencio
Editor's note: On May 25, New Mexico Wild joined together with our partners and the community of Northern New Mexico in Taos to celebrate the 10th anniversary of one of our state's hardest-won conservation victories: The Rio Grande del Norte National Monument. The celebration brought together community members, local leaders, and current and former New Mexico Wild staff and board members to honor not just the monument itself, but also the people who dedicated their invaluable time and talent to the campaign to designate this uniquely beautiful and significant place. In particular, New Mexico Wild was humbled to honor two of the most crucial organizers of this campaign, whose broad legacies reach beyond the Rio Grande del Norte National Monument, but without whom the monument designation likely would not exist. We were consummately represented by our Board of Directors member Ernie Atencio, who presented a new annual award on our behalf honoring the architects of the campaign. Ernie has been so kind as to share the speech he gave at the event for our members to enjoy. Read on to learn about two amazing people and the monument they brought to fruition. 
— 
"Thank you all so much for being here to celebrate the Rio Grande del Norte National Monument. I have an award to present, but there is a long story about it I want to share. 
My name is Ernie Atencio. I'm originally from Dixon just down the road and now live in Arroyo Hondo, right next door to the Rio Grande del Norte. I have done a variety of conservation work around New Mexico and my day job today is Southwest Regional Director for National Parks Conservation Association. But I am here this evening representing New Mexico Wild as a proud board member. 
We are here to celebrate the Monument, but also to honor two very important and beloved people, without whom this Monument might not have happened. 
First, I'd like to tell you about Esther Garcia. Sadly, we lost Esther in 2020. But she was a trailblazer in many ways and left behind an impressive legacy of care and protection for the land, her community, and the age-old Indo-Hispano traditions of acequias and land grants. 
Esther was a strong-minded and outspoken woman who cared deeply for the land, for her people and her community, and worked tirelessly on their behalf. Through my conservation work around here over the last 26 years, I crossed paths with Esther a lot. Northern New Mexico is not a place where you want to show up and say, "I'm an environmentalist and I'm here to help." Around here it's like saying you're from the government. Even as a fellow Norteño, Esther and I did not always see eye to eye, but she was always kind and civil and we came to respect and understand each other. 
Esther was not immediately a fan of the Monument. I had the opportunity to interview her in 2013 for an article in High Country News. She told me that she was concerned about how federal protection could affect historic land grants, livestock grazing, and other traditional uses. As the first female mayor of the Village of Questa at the time, she said, "We called Washington and told them that without the land grants, it was a no-go." And that was that. 
It was a long road, but after successfully integrating traditional values and uses into the plan, Esther went from staunch opponent to enthusiastic supporter who testified in Congress and eventually ended up in the Oval Office with President Obama for the formal signing ceremony. She said, "It was a dream come to reality." 
Over the last decade of her life, Esther was instrumental in many conservation victories in Taos County, including the Columbine-Hondo Wilderness designation. But I think it's safe to say that the Rio Grande del Norte National Monument probably would not have been successful without her leadership. New Mexico Wild is very gratified to have the opportunity at this celebration to present the inaugural Esther Garcia Conservation Champion Award. 
Mark Allison, New Mexico Wild's executive director, regrets that he can't be here. But he said that when he first envisioned the Conservation Champion award, Esther was the inspiration. Tragically, we lost her before Mark could present her with this idea in recognition of her profound impact on this community and this landscape.  So we will honor her legacy through this award presented annually to a conservation leader of New Mexico who carries on Esther's spirit of justice, diplomacy, wisdom, and passion. 
Mark also wanted me to share these words: 
"I saw Esther as a peacemaker and a bridge builder, who helped bring together acequia parciantes, land grant heirs, pueblos, local governments, businesses, hunters and anglers, communities of faith, and conservation groups around shared values and a love of the land. When Esther was in the room, there was an implied expectation that everyone would listen to one another and treat everyone with dignity and respect. And when Esther spoke, people listened." 
Our deepest thanks to Esther's family for being here tonight and helping us honor and remember the remarkable woman she was. Her legacy lives on in everyone here tonight, in the land and water she helped to protect, in every community member whose way of life is preserved thanks to her advocacy and leadership, and every person who will be inspired by and enjoy this beautiful place. To her daughter Myra, and all of her family, this award is to honor you too, and the ways you inspired and empowered Esther to change her corner of the world. 
New Mexico Wild is honored to present the first-ever Esther Garcia Conservation Champion Award to a man who fought by Esther's side for the Rio Grande del Norte and other conservation victories: John Olivas. John is a skilled community organizer, land grant heir, sportsman, biologist, and advocate for wild places and the communities that steward them. John's approach to conservation work, particularly in northern New Mexico, is the embodiment of effective grassroots organizing. 
As John described to me when I interviewed him in 2013, the campaign that led to the protection of this monument began with a conversation at Esther's kitchen table that lasted for 11 hours. John said, "If the movement didn't happen within the Hispanic leadership, it wasn't going to happen" in northern New Mexico. "Esther and I spoke the same language" of community and tradition. And it was through that partnership that eventually led to Esther coming around to support the Monument, but on her own cultural and environmental terms. 
Here is one more quote from Esther: "Hispanics have always been conservationists. We care about protecting the land and the water; that's how we survive. But no one has ever paid attention. Things are changing." 
This path led John to collaborate with grazing permittees, Taos Pueblo leadership, land grant heirs, acequia parciantes and mayordomos, local businesses, sportsmen, ranchers, and local governments. That diverse coalition built a campaign that led to President Obama designating more than 240,000 acres of land as the new Rio Grande del Norte National Monument on March 25, 2013. 
John's story doesn't end here. He also played a pivotal role in securing permanent protections of the Sabinoso, Pecos, and Columbine-Hondo Wilderness areas.  
John is a gentle and humble man, a great listener with a brilliant mind for strategy, and a true visionary. During the decade that John worked with New Mexico Wild, his courageous approach to the work left a mark on the organization that we are proud to honor tonight with this award. 
John Olivas, my friend, New Mexico Wild presents to you the Esther Garcia Conservation Champion Award. We thank you for everything you've done for the people, wildlife, lands, and waters of northern New Mexico. "