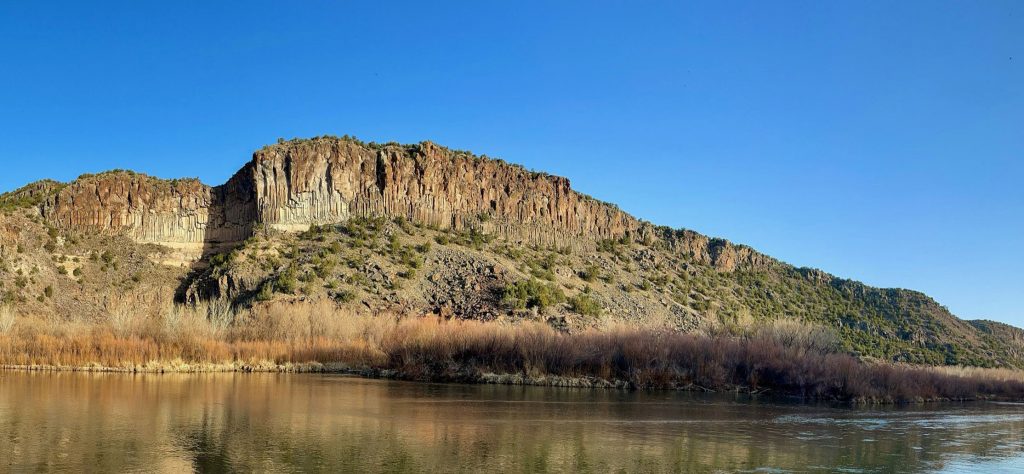 By Garrett Veneklasen, Northern Conservation Director
The Caja del Rio Plateau southwest of Santa Fe is arguably one the most culturally historic regions in all the Americas. The landscape is a singular cultural artifact — a colorful and magical New Mexican and American history book written on the land. The Caja is the finest example of cultural history the entire Southwest and possibly in all the Americas, because of all the Indigenous, Hispano and "modern" American crossroads intersecting in one landscape.
At the same time, the Caja is also a critical crossroads for wildlife, connecting the northern edge of Cochiti Pueblo, the eastern edge of Bandelier National Monument and the uplands of the Valles Caldera National Preserve with valuable winter habitat. Nineteen miles of wild and untamed Rio Grande intersect the two landscapes, providing a critical migratory route for waterfowl, raptors, songbirds, bighorn sheep, elk, deer, bear and cougar. Like the Camino Real de Tierra Adentro that bisects the Caja and has connected Mesoamerican Indigenous and Hispano travelers into North America since time immemorial, the Rio Grande corridor here too connects wildlife from the southern Rockies all the way to the Gulf of Mexico and beyond.
Sadly, the Caja is being threatened by many external stressors. Los Alamos National Laboratories has proposed new power and internet lines (and a highway!) which could irreversibly fragment the land, scar its cultural resources and degrade wildlife habitat and connectivity. Development, growth and water mismanagement by the city of Santa Fe; illegal dumping; unregulated motorized abuse; vandalism and many other issues are slowly but surely degrading Caja's remarkable integrity.
But there is a great deal of hope for this one-of-a-kind landscape.
Over the past year, New Mexico Wild and its Puebloan, Hispano and NGO partners have been organizing a formidable community led effort to permanently protect the Caja. Cochiti, Tesuque, Kewa (Santo Domingo) and Jemez Pueblos are working to outline a plan to permanently conserve the Caja. Keegan King, a political and public policy consultant and for New Mexico Wild, is working with us and the sovereign nations who recognize the Caja as ancestral lands to come up with a cohesive federal protection plan.
Led by rancher Julian Gonzales, Darrin Muenzberg, whose family has lived in the area for centuries, (y Tinajero de Barreras y Lucero) and many other local grasstop and grassroots leaders, traditional Hispano communities – including those from La Bajada, Peña Blanca, La Cienega, La Cieneguilla, Agua Fria and Jacona – are talking among themselves about maintaining traditional uses and access. Grazing permittees, land grant heirs and acequia parciantes are all integral voices in the planning process. Outdoor recreation interests are also being consulted. Sens. Martin Heinrich and Ben Ray Luján; Rep. Teresa Leger Fernandez; Interior Secretary Deb Haaland; state Land Commissioner Stephanie Garcia Richard; Santa Fe County Commissioners Rudy N. Garcia, Henry P. Roybal and Anna Hansen; Santa Fe Mayor Alan Webber and Santa Fe city councilors have visited the landscape and are committed to working with local stakeholders to ensure their voices are heard and their needs are being met when discussing permanent protection for the Caja. Conversations are also continuing toward involvement of local Puebloan and traditional Hispano communities in assisting federal agencies to manage the land in harmony with their shared heritage of stewardship.
In the coming months, New Mexico Wild and its partners will continue robust community outreach and will be holding public meetings throughout Santa Fe County. If you are interested in holding a meeting or just getting more involved, please contact: darrin@nmwild.org; julian@nmwild.org; keegan@atsaya.com; garrett@nmwild.org
###