By Steve West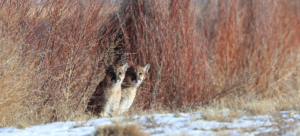 Jim Walters, a career National Park Service employee, came to New Mexico in 1982 as the resource management specialist at Carlsbad Caverns and Guadalupe Mountains national parks. He was in charge of the mountain lion program, responding to area ranchers who claimed the lions were wiping them out and that the park service was turning lions loose in the park and the national forest.
During this fiasco, Walters attended numerous public meetings and hired a professional to collar and study mountain lions, analyze scat and provide a report on what mountain lions were actually doing. He also had many meetings with ranchers in his office where he questioned them about what they were saying (but never had the proof) as he tried to get them used to the idea of protecting mountain lions. One of his file cabinets was labeled "Mountain Lion Releases." I'm sure the ranchers saw it. I asked him about it one time (knowing that releases weren't happening), and he said, go ahead and open it up. I did — it was filled with dried cow shit. That was Jim Walters at his finest.
Walters was born on the seventh of August 1944 in Lynwood, California, and spent some of his first years on Catalina Island where his father was stationed during World War II. Walters grew up in California with his five siblings. As a youngster he was always out, looking for animals of any type that he could "study." He was always curious about what was out there and remained so for the rest of his life.
After graduation from high school, Walters attended Cerritos College in Norwalk, California, and Humboldt State University in Arcata, California. He went on to study for his master's degree in game management in January 1967. He was at the point of writing his thesis on the feeding habits of burrowing owls when he saw an announcement for the National Park Service (NPS) looking for new employees. He immediately submitted his application and was accepted. Thus began a 38-year career with an agency and a job he loved.
Like most park people, Walters worked at a variety of sites, including Joshua Tree National Park, Wupatki National Monument and Sunset Crater Volcano National Monument. He also went east where he worked in law enforcement at the Blue Ridge Parkway in North Carolina. While there, he made time for surveying of plants and animals and wrote a column for the local paper on the blooming periods of flowers readers were likely to see. At Everglades National Park, he was the district naturalist (1973-1976) and worked closely with efforts to protect sea turtles and even rescued eggs until they hatched and released the turtles.
Then back West again, he was the district ranger for the Maze District of Canyonlands National Park. He hiked over most of the country and even found a new ruin that was eventually named for him. From 1976 until 1982, he was in charge of resource management at Grand Canyon National Park. During that time period, NPS was removing the donkeys (burros) from the park, and Walters was in charge of that program. After the donkey removal was successful, he moved to New Mexico where he was at Carlsbad Caverns and Guadalupe Mountains national parks from April 1982 until July 1988.
He eventually was made the acting unit manager for Carlsbad Caverns. Always looking for a new adventure, Walters was asked to be part of an expedition to American Samoa where they were studying an archeological site. It was during his time in Carlsbad that I first met Walters.
He met Sue Kozacek at a Wilderness symposium where both of them were speakers. This started a long-term relationship where they traveled and saw the world.
The reorganization of NPS meant Walters had to move again. He settled in Santa Fe and was there for the rest of his career. His official title was Chief, Branch of Resource Operation, he and was the IMFA Wilderness coordinator and the WASO deputy wilderness coordinator.
He often told me how park superintendents (and others) were breaking the rules on Wilderness (if they had any) or at least bending them. Again, things were changing, and Walters was being transferred to Denver, Colorado, which he fought but knew he was going to lose. He was supposed to report to Denver in a couple of weeks, but on a Friday afternoon, he walked into his boss's office. When his boss asked what he had planned for the weekend, he said he was planning a motorcycle trip and would be gone for a while. When his boss asked, "What about the job in Denver?" he took out his keys, put them on his desk and said, "I'm through. I'm not sure if Denver has treated Wilderness concerns any better than did Santa Fe."
That was so like Walters and not at all unexpected. While he was a "company man," his main aim was protecting the resources and that was how he always did his job. Sometimes he would go above his supervisor and tell his boss what he was doing, which got him in trouble. But in a bureaucracy that ended up being removed from the resource, Walters never forgot the resource. That's where his heart always was.
He was frustrated by the anti-Wilderness stance of some park service people and after retirement wrote a 30-page letter to one of New Mexico's U.S. senators, deriding the park service for not pushing Wilderness in their parks, for not living up to congressional mandates and for not calling for Wilderness when it was obvious that was a legal obligation. I never knew he had written that letter until I was going through his stuff and found several copies. I never found a response to his letter. In it, he outlined every park in the nation, whether or not it had Wilderness, and how it had violated the Wilderness Act. It was a great beginning for a book on NPS and Wilderness that I kept telling him he needed to write.
He wrote the lead article for the spring 2006 issue of New Mexico Wild, titled "The National Park Service and Wilderness: A Strained Relationship." In it, he pointed out the failings of the NPS and what they needed to do to correct it. I know he lost a few friends because of this but, again, truth to power.
To sum it up, Big Bend, Grand Canyon and Yellowstone still have NO Wilderness! Along with dozens of other parks that are still not complying with the rules of Wilderness passed by Congress.
Walters loved an adventure, and if there wasn't one, he made one. He traveled the world with Kozaceck, and sometimes my wife, Renee, and I accompanied them. Walters and I took several trips together, sometimes with our wives, including to Europe, New Caledonia, Irian Jaya (now called Papua) in Indonesia, the Pantanal in Brazil, Belize, Mexico, and on and on. Walters was a great traveling companion and was always up for the next adventure.
In addition to having a job he always loved, Walters was a woodworker, a motorcycle enthusiast, and a banjo player. He loved model airplanes, rockets, and drones; banding burrowing owls in Santa Fe; reading; being involved in politics; and, of course, playing tricks on everyone he could think of. Sometimes they backfired, but you really knew when he got you.
Walters will be missed by everyone who knew him. The Wilderness will miss him writing letters addressing Wilderness issues. And to all of his friends who can think of practical jokes or stands he took on issues, we will miss him dearly and miss commiserating (one of his favorite words) with him.