By Guest Contributor Michaela Merz, Director of Pecos Valley Public Services
Photos by Rudy Merz, Pecos Valley Public Services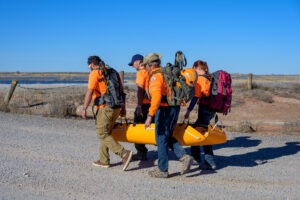 New Mexico, with its stunning landscapes ranging from high deserts to rugged mountains, is a haven for outdoor enthusiasts and adventurers. Much of this beautiful terrain is public land and can be enjoyed year-round by everyone.
Vast Wilderness areas provide ample opportunities for adventure but also increase the likelihood of people getting into trouble. From hikers stranded on treacherous trails to lost campers and injured climbers, New Mexico's diverse terrain calls upon dedicated teams of volunteers to ensure the safety of its residents and visitors.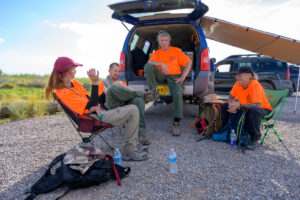 Pecos Valley Public Services is a tax-exempt non-profit organization that provides search and rescue volunteers whenever the state requires their help. "We are all volunteers," explained Michaela Merz, one of the directors of the organization, "but we provide professional-level services."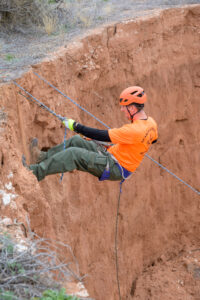 The team has at least two training days each month, most of them taking place somewhere in the Wilderness. The volunteers must pass physical fitness tests, a state certification, and basic life support training. Many pursue additional specialized skills. Among Pecos Valley Public Service's members are paramedics, Wilderness First Responders specialized to provide first aid far from hospitals, Federal Aviation Administration certified drone pilots, ham radio operators, and other experts.
"In a world that often feels dominated by technology-driven lives, our beautiful federal public lands are a sanctuary of natural beauty. They also play a pivotal role in conserving biodiversity. Our public lands provide habitat for countless species of plants, animals and insects, many of which are rare or endangered," said Merz. "However, people sometimes forget that we call it Wilderness for a reason."
Proper preparation is the key to a safe and enjoyable outdoor experience. Whether you're planning a day hike, camping trip or extended backpacking adventure, make sure someone knows where you are and when you expect to return. This information can be crucial in case of emergencies. It is also important to carry enough water and to have appropriate gear, clothing and shoes.
What about cell phones? "A cell phone is a great tool," explained Merz. "Make sure it is fully charged but be aware that signal reception might be limited. Some apps or maps, even communications, might not work when you need them the most."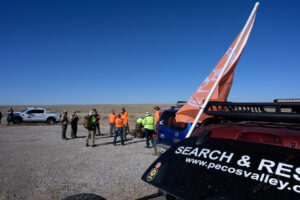 The search and rescue volunteers from Pecos Valley Public Services carry satellite communications devices on their searches and training sessions. So, it might be a good idea to invest in one of those devices as well.
If Merz had to summarize the most important facts about venturing into the Wilderness, what would they be?
"Respect nature and all creatures around you. Be prepared before you head out. Enjoy your time in our beautiful public lands. If you need help, don't hesitate to call 911. Search and rescue in New Mexico is free of charge."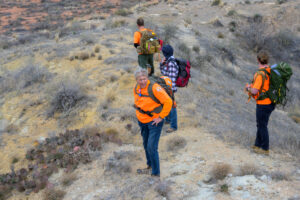 To learn more about Pecos Valley Services Search and Rescue, visit www.pecosvalley.org.