By Devon Naples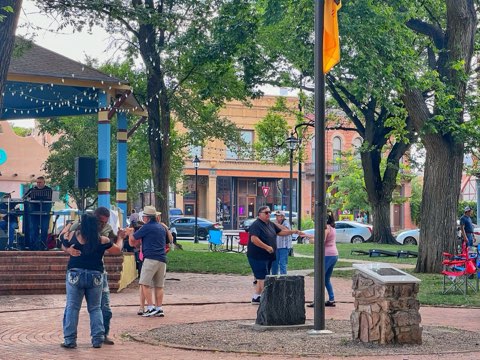 New Mexico Wild staff and volunteers were humbled to celebrate the resilience of the Las Vegas and Mora area's people and ecosystems with our Rise from the Ashes event on July 23. In collaboration with Hermit's Peak Watershed Alliance, Conservation Lands Foundation, HECHO, Continental Divide Trail Coalition, Latino Outdoors, and NMFWRI, New Mexico Wild acknowledged Latino Conservation Week with a gathering that also highlighted the strength of a community recovering from the worst wildfire in New Mexico's history.
Community members were joined at Plaza Park in Las Vegas by Senator Ben Ray Luján and Representative Teresa Leger Fernandez. Each spoke about the federal efforts to provide relief to communities affected by the recent Hermit's Peak/Calf Canyon fire. In acknowledging local leaders and community members who provided early and sustained relief to their neighbors, Sen. Luján and Rep. Fernandez reminded us that local relief networks and federal aid are both crucial safety nets for our New Mexico communities afflicted by natural disaster.
Thanks to the community organizing efforts of New Mexico Acequia Commission chair and New Mexico Wild staff member Ralph Vigil, many of those local leaders came to commune and speak. County Commissioners Max Trujillo and Janice Valera, Lea Knutson from Hermit's Peak Watershed Alliance, and Elmo Baca of the Las Vegas New Mexico Community Foundation all reflected on the cohesiveness of the community in the face of tragedy. They also looked toward the future to imagine a rebuilt and revitalized burn zone.
In all, we enjoyed the company of 371 attendees and gave away 341 meals from local food trucks. Through donations and raffle ticket sales, we raised $458 for Las Vegas New Mexico Community Foundation's fire relief fund. Many gallons of agua fresca were shared, and locals busted countless dance moves to Pecos band Bandalegre's música norteña.
Inspired by Latino Conservation Week, this event was also a celebration of Hispano and Latino contributions to conservation. As a grassroots conservation organization, New Mexico Wild strives to connect with communities in authentic ways, learning what conservation issues are significant to locals and what solutions they see to these challenges. Staff enjoyed enriching conversations with community members that lead us to a better understanding of how to follow their lead in the fight to protect New Mexico's public lands and waters.
We were also humbled to provide a setting for local and federal organizations to connect folks affected by the fire and its aftermath with financial relief and other resources. FEMA and the Hermit's Peak Calf Canyon Long Term Recovery Group took the opportunity to answer questions and assist with relief applications.
We want to thank the city of Las Vegas for having us in their beautiful park. We want to thank our organizational partners and our amazing volunteers who made this event a success. And we want to thank all the local leaders who came out to show solidarity with the resilient and strong people of the Las Vegas and Mora area.
To read about an important fight in the region to protect the Upper Pecos watershed from destructive mining, check out our Stop Tererro Mine page.