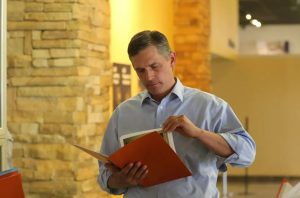 By Adrian Hedden | May 12, 2022
Carlsbad's famed hiking trails, fishing holes and desert vistas will be easier to access after a bill sponsored by New Mexico's senior U.S. Sen. Martin Heinrich was signed into law by President Joe Biden.
The Modernizing Access to our Public Land (MAPLand) Act was passed by the U.S. Senate last month before heading to President's desk for signature.
The new law will call on federal agencies to digitize mapping information like access points to federal public land resources while also including information on permissible uses.
It will help boost New Mexico's growing outdoor recreation industry, Heinrich said, which will rely on improved access and awareness.
About 65 percent of New Mexicans participate in some form of outdoor recreation annually, per a report from the Outdoor Industry Association, while the industry contributes about $9.9 billion in consumer spending and $623 million in state and local tax revenue.
The sector also represents 99,000 direct jobs, the report read, accounting for $2.8 billion in wages.
Nationally, the industry $887 billion in consumer spending, per the report, and 7.6 million jobs.
Heinrich said modernizing and supporting the industry was a key component of New Mexico's economic diversity.
"With our expansive skies and remote open spaces in New Mexico, modernizing access to our public lands will help people better navigate the great outdoors and play a key role in growing our state's recreation economy," he said.
The MAPLand Act was also sponsored by U.S. Sen. Angus King (I-Maine) and Jim Risch (R-Idaho).