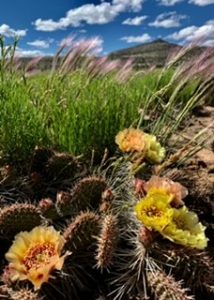 By Garrett Vene Klasen | May 11, 2022
On Tuesday, May 10th, 2022. The Santa Fe County Commission passed a resolution highlighting the extraordinary cultural and ecological treasures found on the Caja del Rio Plateau southwest of Santa Fe. This singular landscape is the epicenter of Pueblo and Hispano cultures and is still central to the traditional land uses and spirituality of both communities that are the very foundation of New Mexico's identity. The Caja is also ecologically critical as it connects the upper, middle and lower Rio Grande River corridors and the Jemez Mountain highlands. The resolution calls for permanent federal administrative or legislative protection that meet the specific needs of the communities that live around it. We'll be leading many field trips out to the Caja this summer and holding public meetings in and around Santa Fe, so shoot me an email at Garrett@nmwild.org if you'd like to get to know the Caja.
A big shout out to all the commissioners for their support, as well as to the leadership and involvement by Cochiti, Tesuque, Santo Domingo and Zia Pueblos, the All Pueblo Council of Governors, as well as Hispano leadership in La Bajada, La Cienega, La Cieneguilla, Agua Fría and Jacona. Stay tuned for more details and please get involved in the designation decision making process.