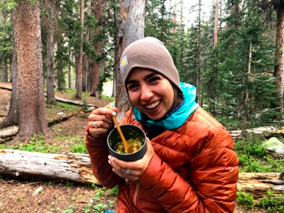 Isa was the first person awarded the Nancy Morton Wilderness Internship
By Isa Nellos
During my season with New Mexico Wild, I learned a great variety of things it would be hard to name them all. Among them, however, are the value of Wilderness designations, land-and-user relationships, training as a wilderness ranger, and cooking in the backcountry. I revisited Western environmental ideologies and some of their most influential leaders, such as Aldo Leopold. Leopold highlighted the importance of ecosystems, especially during his time spent in the Gila Wilderness. I learned some about the history of wilderness designations in New Mexico.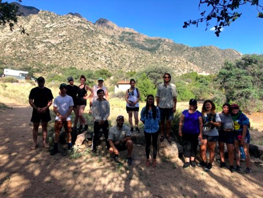 Jesse [Furr, Santa Fe Wilderness Ranger] would often read passages from a book called "Enchantment and Exploitation," speaking of the historically interconnected relationships between ranchers and land-use in Northern New Mexico. This explained why grazing still happens in the Pecos, as well as why it is such a controversial topic. I learned about the importance of having wilderness rangers in the field, being the eyes and boots on the ground to communicate what is happening in the field. I also learned about the systematic flaws of work in the US. Forest Service, how despite the best efforts of its employees, things can sometimes move slowly due to the difficulties of navigating a large bureaucracy.
During my involvement with Latino Conservation Week and the organization of the Backcountry Cookoff, I learned about the historically complex relationship that different groups of people have with the land, as well as how sensitive of a topic it is for some. I learned to cook in the backcountry and design my first cookbook.
One memorable experience I had in the backcountry was when Jesse and I backpacked to West Panchuela to meet volunteers Bob and Clarity. It was a long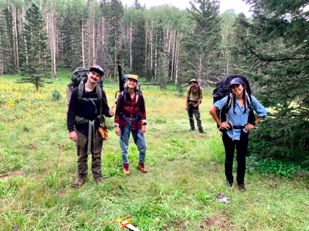 and challenging 9-mile journey to get to our destination. We experienced rain, hail, and lightning, and the temperatures at night were in the chilly 50's. One of my favorite parts of our journey was when we passed Horse Thief Meadow, which was a large meadow, at the peak of its bloom in wildflowers and mushrooms. When we finally reached our destination, Bob and Clarity had an admirable camp set up, including a large tarp with a variety of lucrative gear underneath, all carried by their two donkeys, Jolene and Candy. They had spent four days in the backcountry and still had two more to go. It was impressive to see how dedicated they were to spending time scouting trails, clearing trees, and assessing the state of the land.
My next step academically is finishing my senior year at UNM. I will be graduating with a degree in International Studies with concentrations in Latin America and environment/society/sustainability. I will also be doing a Water Management Fellowship. Each semester we will be taking a Water Resources management class, and at the end of the academic year and into the summertime, we will design an interactive game to engage and educate people about water resources, specifically about the Rio Grande.