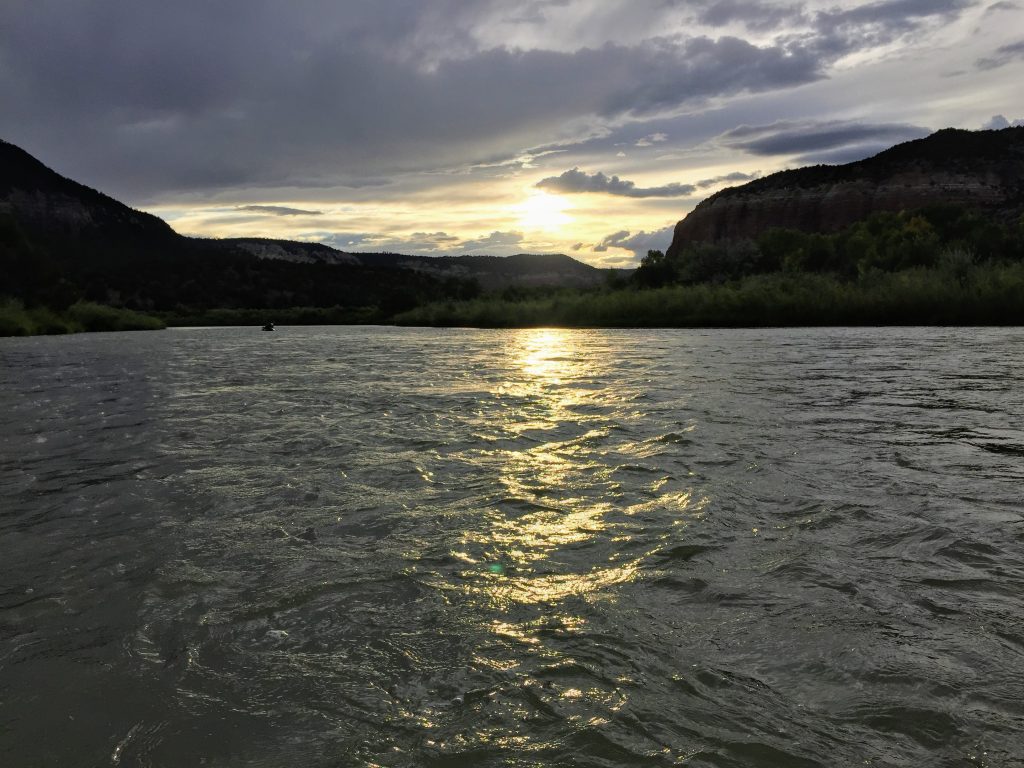 By Scott Wyland | Santa Fe New Mexican
August 25, 2021
Gov. Michelle Lujan Grisham signed an executive order Wednesday that calls for 30 percent of New Mexico's public lands to be protected by 2030, putting the state in line with a larger federal conservation effort.
The order directs a half-dozen state agencies to coalesce behind the "30 by 30" plan by establishing programs that conserve, protect and enhance public lands for a variety of uses. An additional 20 percent will be designated as climate stabilization areas.
The state will form a committee, representing diverse stakeholders, to look at areas that should be conserved to avoid watershed degradation, meet climate goals and protect both wildlife habitat and migration corridors.
"There is no future without maintaining our watersheds, our land, our forests, and doing that in a way that is responsible and that will last for generations to come," Lujan Grisham said before signing the order outside the Roundhouse.
A broad coalition applauded the order, including environmentalists, tribal leaders, local governments and outdoor recreation advocates.
The directive aligns with President Joe Biden's "America the Beautiful" initiative that seeks to conserve and restore 30 percent of the country's lands by 2030.
The consensus among those who back the plan is that stepping up protections to enhance biodiversity is crucial as climate change, development and population growth put increasing stress on land, waterways and wildlife.
They say steps to conserve lands from degradation — especially watersheds and wildlife migration corridors — is crucial to the state's future.
But some Republican state leaders criticized the plan, calling it more government overreach.
"Almost half of all land in New Mexico is already owned and controlled by the state or the federal government, and we all know that our family-owned, private land is better managed, utilized, and preserved," state Sen. Crystal Diamond, R-Elephant Butte, said in a statement.
"This 30 x 30 initiative set forth by the governor is a thinly veiled land grab and the people of New Mexico will not stand for it," Diamond said.
Still, the order states farming, ranching and other "working lands" also face dire threats from climate-induced drought and could benefit from protections. The state will work to foster responsible stewardship with diverse activities, whether it's outdoor recreation or traditional uses such as agriculture, the order says.
"Protecting and conserving land will expand access to the outdoors for recreation, hunting, fishing," said Demis Foster, executive director of Conservation Voters of New Mexico, speaking at the ceremony. "This order also provides additional opportunities for partnerships with private landowners that want to do more conservation work on their land."
Agencies are instructed to use the best available science and take a wide view of conservation, including the value of working lands. They also must consider tribal sovereignty and ensure environmental equity among all communities.
The agencies taking part include the Energy, Minerals and Natural Resources Department; the state Department of Game and Fish; Indian Affairs; the Office of the State Engineer; the Department of Agriculture; and the state Environment Department.
They will meet quarterly to assess the state's progress and submit a yearly report to the governor.
Several supporters interviewed after the ceremony said the order is vital for bolstering climate resiliency.
"We're currently facing an extinction crisis," said Jesse Deubel, executive director of New Mexico Wildlife Federation. "The 30 by 30 initiative … provides solutions and opportunities to stop the destruction of critical habitat and stabilize our climate by preserving natural landscapes."
Deubel said he will monitor the committee to make sure expanded conservation doesn't exclude hunting and fishing, which the group deems high priority.
Garrett VeneKlasen, northern conservation director for New Mexico Wild, said it's important the state's land conservation mirrors the governor's other policies to combat climate change.
"With the coming challenges that we're having with climate change, if our watersheds are not resilient, conserved and restored and functional to their highest value … then we're really going to suffer as a state," VeneKlasen said.
One conservation advocate said the hunting and fishing component must remain strong to maintain bipartisan support for the plan.
"Obviously sportsmen, hunters, anglers, we have a lot at stake," said John Cornell, southwest field manager for Theodore Roosevelt Conservation Partnership.
Cornell said he was pleased to hear the governor address the need to protect migration corridors, which are critical for the health of elk and deer.
If lands aren't managed smartly as the climate changes, wildlife will decline and watersheds will dry up, Cornell said.
"We all know what kind of problems we're going to have," Cornell said. "We're already having shortages in a megadrought."
This article originally appeared in the Santa Fe New Mexican.