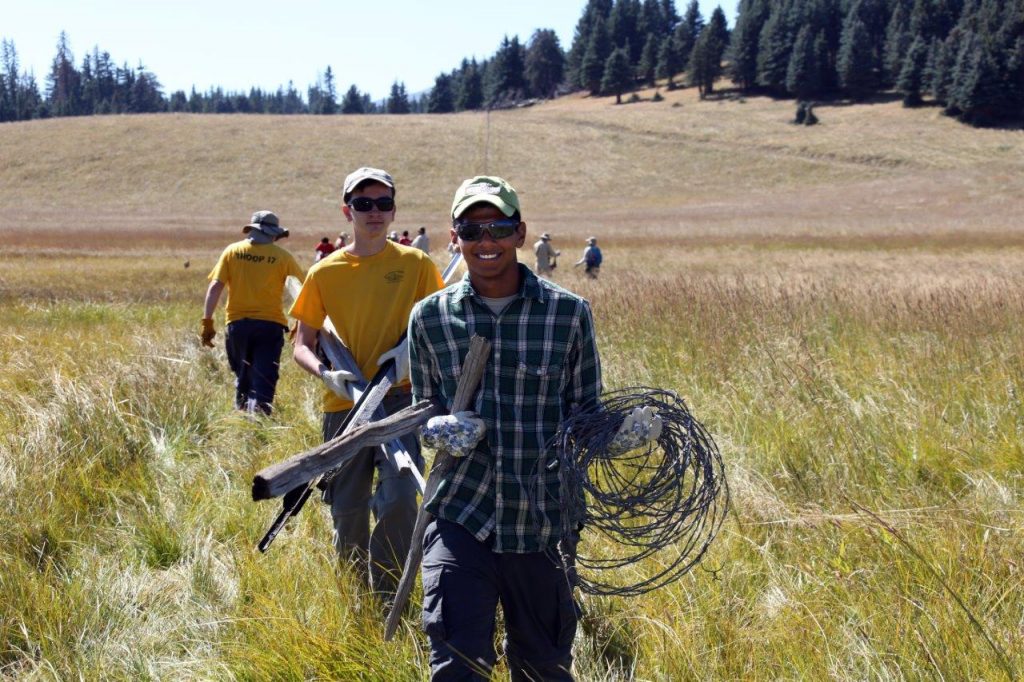 New Mexico Wild and dozens of other conservation and outdoor recreation nonprofit organizations have submitted a letter urging the Senate Finance and House Appropriations and Finance Committees to support the New Mexico Outdoor Recreation Division's (ORD) special appropriations request of $1.025 million for the Outdoor Equity Fund and $3.22 million for the Great New Mexico Trails Package. ORD has made the appropriations requests as emergency responses to the current public health and economic crises.
"The funds requested by the Outdoor Recreation Division would make New Mexico's outdoor spaces more accessible and equitable and would help create jobs in an economy that has been hindered by a sustained global pandemic," said Brittany Fallon, Policy Director at New Mexico Wild. "The legislators we are addressing have the ability to make a significant positive impact on the future of New Mexico's public lands and our growing outdoor economy. It's time for our leaders to invest in our kids, many of whom have been stuck in front of computer screens and unable to explore the outdoors for nearly a year."
"We need true equity and access to the outdoors for everyone, not just the privileged," said Simon Sotelo III, Community Grassroots Organizer at New Mexico Wild. "I encourage the New Mexico legislature to grant the funds request for the Outdoor Equity Fund. While this does not completely solve the larger problem of inequity and access, it is a step in the right direction for all New Mexicans and will help more people access the wonderful outdoor spaces we all love so much."
The Outdoor Equity Fund was established in 2019 to fund transformative education and outreach programs that help more low-income youth and communities of color access New Mexico's public lands and outdoor spaces. The innovative fund set a national example and resulted in more than $1 million in grant applications from 84 institutions across 22 counties in its first year of existence. However, the state legislature only appropriated $100,000 to the program initially, leaving many of the grant requests unfulfilled.
The $3.22 million requested by the Outdoor Recreation Division for the Great New Mexico Trails Package would help to fund shovel-ready outdoor recreation infrastructure projects. ORD estimates that this program would help create more than 200 jobs in urban and rural communities.
The passage of the Great American Outdoors Act at the federal level earlier this year guaranteed full funding for the Land and Water Conservation Fund (LWCF) for the first time since the program's inception in 1965. New Mexico is poised to receive between $4.2 million and $5.6 million in LWCF funds through the program. However, the state may not be able to make the required 1:1 state-side match without the additional funding requested by ORD, potentially missing out on millions of dollars of LWCF funding per year.
The full letter is available for download here.
Additional Quotes:
"It's no accident that New Mexico is called the Land of Enchantment. Not only are the landscapes of our state diverse and breathtaking to experience, but also indigenous and traditional communities remain closely connected to the land. Because of our pristine landscapes and cultural diversity, recreational opportunities abound on our public lands and could be more fully leveraged as a sustainable economic driver – and now our state has the tools it needs to make this a priority.  It is our hope that the Division's appropriations requests will be approved to enable greater, more equitable access to our lands."
-Greg Peters, Public Lands and Wildlife Advocate, Conservation Voters New Mexico
"The accomplishments this past year by the Outdoor Recreation Division have significantly benefited New Mexico's outdoor recreation economy and the experiences afforded our state's 'outdoorists.' By supporting ORD's special appropriations, our legislators will continue to show their desires to make outdoor recreation in New Mexico bigger and better."
-James Glover, Co-Director, endeavOR New Mexico, the state's outdoor recreation business alliance
"New Mexico youth from all walks of life were left out of the opportunity to enjoy and learn from our state's beauty, wildlife, and natural resources. The next generation of New Mexicans deserves the opportunity to benefit and learn from the outdoors. After all, they will be the next caretakers of our lands, air, and water, and if we want a more diverse workforce, we must invest in their future. The time is now to fully invest in the Outdoor Equity Fund."
-Ángel Peña, Executive Director, Nuestra Tierra Conservation Project
"The Great New Mexico Trails Package would provide much-needed financial relief to the families and communities that have been hit the hardest by the pandemic. We cannot miss this opportunity to tap into the resources that will put New Mexico on the path to economic recovery."
-Glenn Schiffbauer, Executive Director, Santa Fe Green Chamber of Commerce
"We all stand to benefit greatly from investing our state's resources directly into community-driven solutions put forward by conservation and Black, Indigenous, and People of Color-led organizations across the state. This fund helps to address some of the historical inequities of who has access to the outdoors and the mental, physical, and spiritual benefits that can be experienced from these spaces."
-Kay Bounkeua, NM State Deputy Director, The Wilderness Society