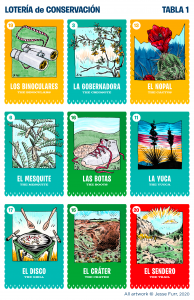 By Simon Sotelo | Community Grassroots Organizer
Lotería is a traditional game of chance, similar to bingo, but using images on a deck of cards instead of numbered ping pong balls. Every image has a name and an assigned number. Each player is given at least one tabla, a board with a randomly created 4×4 grid.
For some when they think of "Lotería," it brings to mind images like La Serena, La Gallo, El Mundo, a myriad of colorful images on a tabla (bingo card). For me, it brings to mind images of spending time with my family at birthday parties, family dinners, and hanging out with my cousins on my parents' porch during school breaks. It's a game that can be played for hours just like its English counterpart "Bingo." Games have always been a way of bringing people together. It is that togetherness that creates a place for conversation and community building.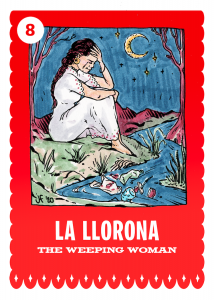 For Latino Conservation Week 2020, New Mexico Wild engaged the Latinx population by creating a "Lotería de Conservación" version of this traditional Mexican game that has brought Latinx families together for generations. The traditional images like La Serena, El Gallo, and El Mundo (the Mermaid, The Rooster, and The World) were replaced with El Nopal, Las Botas, and El Pino (the cactus, the boots,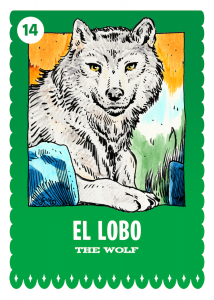 and the pine tree), images synonymous with the outdoors and wild places. The intent is to bring families together in the outdoors and to encourage participation in the conversation of conservation where the Latinx population is typically under represented.
The Lotería cards held true to the traditional 4×4 grid and the deck of 54 cards the accompany them. The artwork was designed by New Mexico Wild's Wilderness Ranger and artist extraordinaire, Jesse Furr. Jesse held true to the colorfulness and detail of the traditional version of Lotería. There is even a downloadable version of the game in black and white so that kids can get in on the fun by coloring the images themselves.