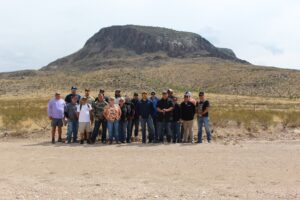 On August 14th, Rep. Gabe Vasquez from New Mexico's Second Congressional District convened with leaders of the Mescalero Apache Tribe and Ysleta Del Sur Pueblo (Tiguas), along with New Mexico Wild staff and other stakeholders. The focal point of their discussions was the protection of Otero Mesa, a vital expanse within the Chihuahuan Desert and a topic of paramount importance as we face the climate crisis head-on.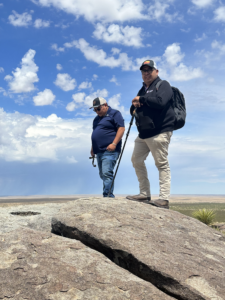 Otero Mesa's cultural and ecological significance was underscored by Rep. Vasquez, who emphasized its sacred status to both the Mescalero Apache Tribe and Tiguas. The meeting comes after the Bureau of Land Management shared its recent draft resource management plan, a timely opportunity to address crucial matters such as mineral development and oil extraction.
This vast grassland is a unique treasure – the largest Chihuahuan Desert grassland on public land. Rep. Vasquez, accompanied by members of the Mescalero Apache Tribe and Tiguas, explored Alamo Mountain within Otero Mesa, located at the juncture of New Mexico and Texas. The ongoing consideration of this area's resource management has spanned over a decade.
Facing pressing climate challenges, Rep. Vasquez called for united efforts to conserve critical resources and safeguard our cultural heritage. He expressed the rarity and significance of Otero Mesa, uniting New Mexicans in the shared responsibility of preserving our land, water, and wildlife while exploring sustainable economic growth.
Fernando Clemente of New Mexico Wildlife Services shed light on Otero Mesa's ecological benefits, highlighting its abundant water resources and vital role in supporting diverse wildlife. This includes the critical Salt Basin Aquifer, holding substantial reserves of potable water and fostering thriving greenery that nurtures various species.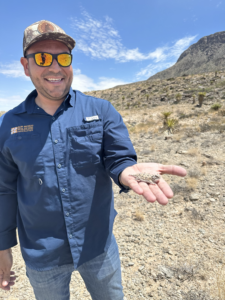 Otero Mesa is home to a diverse array of animals such as bobcats, horned lizards, javelinas, big horn sheep, and pronghorn herds. Beyond its wildlife, the area also holds historical treasures with archaeological documentation of Apache homesites and camps.
Bjorn Fredrickson of New Mexico Wild emphasized the area's educational value and importance to both Texas and New Mexico. While acknowledging the necessity of resource extraction, he underscored the need to protect areas with unique values, reflecting the balance between development and conservation.
Rep. Vasquez reiterated the urgency of prioritizing Otero Mesa's conservation for future generations. He emphasized its sacred significance for indigenous communities and its value to sportsmen and ranching, advocating for a collective approach to decision-making that respects both conservation and multiple uses.
Explore the rich tapestry of discussions and aspirations for Otero Mesa's future, as Rep. Vasquez and stakeholders seek a harmonious balance between preservation and progress.
Read the full article in the Alamogordo Daily News here (subscription required).