By Will Ribbans, Wilderness Stewardship & Outreach Manager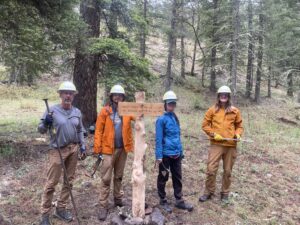 As I write this, we are nearing the halfway point in our USFS Wilderness Ranger Season. Currently, the Rangers are gearing up to lead a group of 8 volunteers into the Pecos Wilderness to work on installing new signage at Lake Katherine and Lake Stewart while also completing some much-needed logouts along the connection trail between these two frequently visited lakes. These popular destinations receive a ton of use and impact from campers creating new campfire rings right next to the lake basin. This is due to the fact this is often some visitors' first true backpacking experience in Wilderness, and they may not know some of the proper recreational or LNT principles. This is also because signage is not always apparent or gets frequently vandalized by some bad actors. We hope this trip will empower volunteers to be stewards and representatives of Wilderness in their own time, but also address some of the on-the-ground needs through signage and campsite restoration. Our Rangers will likely encounter some campers and pass on some of this education to those folks too.
This is one of many volunteer-based projects we have planned for our slightly redesigned Wilderness Ranger Program this year. In seasons past, we worked in teams of 2 Rangers in each forest and had a heavy emphasis on Wilderness Character Monitoring. We walked almost every trail in Forest Service Wilderness areas during a 5-year period and collected data on the conditions of the Wilderness including campsite impacts, invasive species presence, trail conditions, signage and kiosk needs, visitor use, and more. We learned a lot from our seasons and were able to develop some high-level priorities for Wilderness Stewardship in these areas.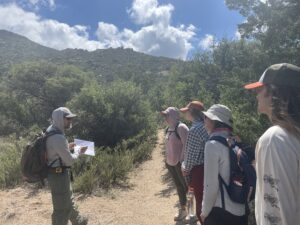 This season, our Rangers are working in a roving crew of 5 Wilderness Rangers that travel to all 5 National Forest Wilderness areas tackling these hands-on projects with the help of volunteers. As the Forest Service has moved to a model of volunteers and partners to address their Wilderness Stewardship and trail maintenance needs, we are working to help build that capacity in these wild areas we all cherish in New Mexico.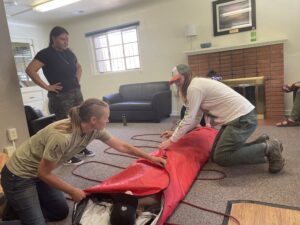 These projects include installing Wilderness Boundary signs, trail junction signs, logouts in high-use areas, campfire ring restoration in high-impact areas, trash haulouts, and general Wilderness and LNT education while out in the field. There is much more to the job than just these projects as the position of Wilderness Ranger is often seen as a 'jack of all trades' focusing on a broad set of deliverables. Viewed by many as the heart and soul of the National Wilderness Preservation System, Wilderness Rangers are laborers, educators, scientists, leaders, ambassadors, and stewards of the land.
Below is a photo recap of what we've been up to this season thus far. We have many more projects on the docket until mid-November. If you or anyone you know is interested in volunteering with our Rangers this season, please sign up through our volunteer portal here: Volunteer with us!
A HUGE shout out to our awesome volunteers who have come and toiled in the mountains with us this season.