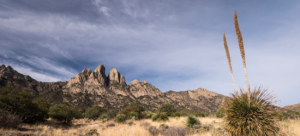 The Bureau of Land Management (BLM) has initiated the Resource Management Planning Process for the Organ Mountains-Desert Peaks National Monument (OMDP). The Resource Management Plan (RMP) that will result from this effort will guide the management and protection of the unique resources within OMDP for likely several decades to come.
Due to the critical importance of the RMP in providing for the long-term protection of OMDP, New Mexico Wild will be heavily involved in the planning process. You can engage, too – BLM recently initiated the scoping period for the RMP and will be accepting scoping comments until August 1. The public input provided during the scoping period will inform the development of management alternatives that will be analyzed in the development of the RMP.
If you would like to learn more, BLM has posted a wide array of documents about this planning process and OMDP on their E-Planning website and will be hosting five in-person public workshops between July 10 and 14 in Anthony, Deming, Las Cruces, Hatch, and El Paso.
The best way to provide scoping comments is through the "Participate Now" tool on E-Planning. Scoping comments should highlight management needs and/or special resources that merit specific protections and should provide specific rationale, data, or justification to support the desired management outcome. For instance, New Mexico Wild will be submitting a comment and supporting geospatial data related to the administrative designation and appropriate protection of all New Mexico Wild-identified wilderness-quality lands outside of designated Wilderness within OMDP as BLM Lands with Wilderness Characteristics, in accordance with BLM Resource Management Planning Policy. We will also provide comments and provide supporting documentation related to maximizing opportunities for climate adaptation within OMDP in accordance with the EcoAdapt study that we commissioned earlier this year, among many other recommendations.