Each year, we send out a call for artists of all ages across the country to submit original artwork inspired by the Mexican gray wolf. This year, we received an astounding number of entries–113! New Mexico Wild staff, board members, and members of the Aldo Leopold Circle then vote for the winner, whose artwork is printed on the Mexican Wolf Conservation Stamp.
While not a true postage stamp, the 4.5 x 5.5-inch full-color commemorative stamp is part of a series of framing-quality art prints offered to collectors, wolf-lovers, and supporters of New Mexico Wild. All proceeds from the stamp benefit New Mexico Wild's Mexican gray wolf conservation and education efforts.
Congratulations to our 2023 Mexican Gray Wolf Artist, Darien Bogart!
Darien Bogart is a Las Cruces-based artist working in acrylic medium primarily on canvas. His designs are inspired by his experiences in nature. With the use of sculpting tools and no traditional brushes, he creates a 21st-century approach to impressionism. Layering his paints to create depth and variation, emphasizing color, a luxurious texture, and a variety of applications, he translates his inspiration of the southwestern landscape and wildlife into bold, contemporary, visions.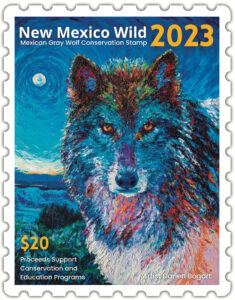 "The land and the light in the West seem to interweave playfully as the sun makes its daily journey across the sky. That contrast, drama, and inspiration are what my paintings strive to convey. The shapes, color, contrast, and textures that this land offers are beyond description and in turn are the strongest elements that unite my work.
My goal as an artist is to recreate the spirit of place… Using sculpting tools to create a variety of brushstrokes, a bright sense of color and luxurious texture; to transport the viewer to that unique space and moment of tranquility where they may discover their own respite, embrace their own moment of reflection and meditation and instill in them the wonderful sense of being."
Find more of Darien's work at https://darienbogart.com.
You can purchase the 2023 Mexican Gray Wolf Conservation Stamp featuring Darien's beautiful painting here! 
In addition to this year's winner, we are also happy to present our 2nd and 3rd place winners and the Youth Honorable Mention Award: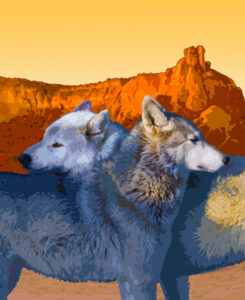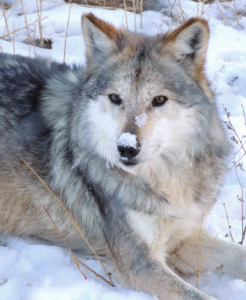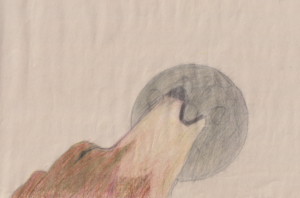 Thank you to all participating 2023 artists!
This was our most exciting and competitive Mexican Gray Wolf Conservation Stamp contest ever because we received such an incredible response and number of submissions! The beauty and diversity of the wolf-inspired artwork we received is truly impressive. We are deeply grateful to every single person who submitted their art to honor and celebrate the Mexican gray wolf!
We've created the gallery below to showcase the 2023 artists who submitted artwork. Please take a look!