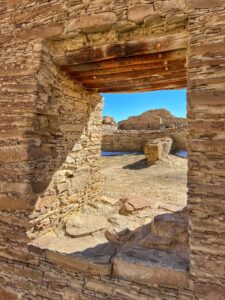 By Reyaun Francisco | Santa Fe New Mexican, December 24, 2022
Indigenous communities have the right to protect their homelands and inherent knowledge. I remember many trips traveling with my grandpa through the Greater Chaco Landscape on my way between home in Iyanbito to Farmington.
Between the music playing on KGAK – a Dine-speaking radio station – he would tell me stories of our ancestors and the importance of being Dine. He would weld our Dine language and the English language together to ingrain in me our role on Nihima Nahasdzaan (Mother Earth) as the protectors and voice to the land, air, water and animals across this enchanting landscape. He spoke of the brevity and courage of our ancestors and how they provided a pathway for us to continue to remain Dine to this day.
Through Chaco, the Long Walk, boarding schools and forced assimilation, the inherent knowledge he passed down to me is vital to the continued preservation of our Dine culture and lifeways.
Congress and President Joe Biden can protect this generational passing down of inherent Indigenous knowledge. They can start by passing the Chaco Cultural Heritage Protection Act reintroduced by Sen. Ben RayLujan and U.S. Rep. Teresa Leger Fernandez. And they can finalize the proposed mineral withdrawal plan to safeguard these stories, songs and prayers passed down about the Greater Chaco Landscape, so that future generations know the strength and brevity of our Indigenous peoples.
This land contains thousands of archaeological and cultural sites both known and yet to be known. Protecting this area would also help keep nearby communities safe from the devastating health and environmental impacts of expansive drilling. Supporting the Chaco Cultural Heritage Area Protection Act would mean safeguarding federal public lands roughly within 10 miles of the Chaco Culture National Historical Park in New Mexico from future destructive mineral leasing and development.
Similarly, the Biden administration's proposal would prevent federal lands and minerals within 10 miles of the park from falling into the hands of oil and gas companies for the next 20 years. Earlier this year, hundreds of faith and Indigenous leaders called on Interior Secretary Deb Haaland – the very first Indigenous U.S. secretary of the interior and a member of Laguna Pueblo –  to approve the withdrawal plan.
When the Department of the Interior opened the plan up to public comment, tens of thousands of supportive comments poured in. The support is clear and overwhelming – the Biden administration must listen and move swiftly to protect Chaco. The continued ruthless exploitation of our lands across the nation and especially in New Mexico has harmed the spiritual and physical health of our communities.
In the Greater Chaco region, over 90 percent of public lands are already leased for oil and gas drilling, and the reckless expansion of pipelines, roads and other oil and gas infrastructure have destroyed cultural sites and turned others into industrial parks. Chaco has been our home for centuries, and it will continue to be our home for centuries unending. We will never stop fighting to protect our sacred land. And we will definitely not sell our generations of inherent knowledge, stories, songs and prayers for the short-term economic interests of a few powerful corporations that only see this landscape as a few letters in their stock portfolio.
Let's support these measures to ensure that one of the most important sites to Native American history is safe for generations of Dine and other Indigenous people to come. By finalizing the mineral withdrawal plan and advancing the Chaco Cultural Heritage Area Protection Act, Congress and the Biden administration can show true leadership worthy of the moment before us.
Reyaun Francisco is Dine from Iyanbito, N.M., on the Navajo Nation.
This My View op-ed was originally published in the Santa Fe New Mexican.