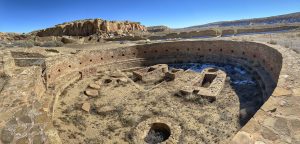 FOR IMMEDIATE RELEASE
December 15, 2022
Contact: Mark Allison, mark@nmwild.org, (505) 239-0906
Emily Wolf, ewolf@npca.org, (505) 423-3550
Ellen Montgomery, emontgomery@environmentamerica.org, 720-583-4024
New Mexicans Urge Biden Administration to Protect Lands Surrounding Chaco Canyon From Oil and Gas Drilling Until Congress Passes Legislation to Provide Permanent Protection
Mineral withdrawal would provide interim protections for sacred landscape 
Albuquerque, NM – New Mexicans are urging the Bureau of Land Management (BLM) to move forward with a proposed 20-year mineral withdrawal of federal lands and minerals within a 10-mile protection zone around Chaco Canyon. The call comes after the agency closed a 30-day public comment period, where people across the country spoke up in support of protecting Chaco Canyon. Once the BLM has reviewed and incorporated public input, the proposal will be ready for final approval from Department of Interior Secretary Deb Haaland.
The end of the comment period comes just weeks after Senators Ben Ray Luján and Martin Heinrich and Congresswomen Teresa Leger Fernández and Melanie Stansbury reintroduced the Chaco Cultural Heritage Area Protection Act, which would provide permanent protections to federal lands within 10 miles of Chaco Culture National Historical Park from new oil and gas leasing. Originally introduced in 2019 and passed by the U.S. House of Representatives, the legislation would protect nearly 355,000 acres of federal public lands, containing thousands of significant cultural properties and sites.
Last June, following the initial comment period, the All Pueblo Council of Governors traveled to Washington, DC urging the Biden administration to protect Chaco Canyon. In a press release, they stated, "The All Pueblo Council of Governors represents the 20 sovereign Pueblo Nations of New Mexico and Texas, all of which support a withdrawal of public lands in an especially critical 10-mile withdrawal area surrounding Chaco Canyon from mineral development, including oil and gas leasing." Additionally, the BLM received over 80,000 public comments in support of the 10-mile withdrawal during the initial 120-day comment period, and another 44,000 comments in support during the recent 30-day comment period.  
The Greater Chaco Landscape includes Chaco Culture National Historical Park and thousands of ancient villages, roads, and shrines that were built by the ancestors of the Pueblos, Navajo Nation, and the Hopi Tribe, and other Indigenous Nations which emerged and flourished in Chaco Canyon between 850 and 1250 A.D. Chaco Canyon has also been designated as a "World Heritage Site" as the culture and heritage of the Indigenous peoples of the American Southwest are inextricably linked to lasting protections for the Greater Chaco Landscape.
Over the years, reckless drilling has caused significant harm to the health of Indigenous and other local communities, air quality, and cultural values in the landscape surrounding Chaco Culture National Historical Park. Oil and gas wells, roads, pipelines, and other infrastructure have destroyed significant cultural sites and transformed others into industrial parks. To allow more drilling in this area would completely disregard the calls from the Pueblos, Tribes, and other communities who share a deep connection to Chaco Canyon.  
The 20-year mineral withdrawal would provide interim protections of roughly 355,000 acres of public lands surrounding the park until Congress is able to pass legislation. The land that is being considered for withdrawal from future leasing does not include any private lands or allotments; is historically, spiritually, and ecologically significant to numerous Tribes in the Southwest; and its protection is critical.  
Below, several coalition members have released statements detailing what this broad support for increased protections means for Greater Chaco as the Department of the Interior works to finalize its proposed withdrawal and Congress considers permanent protections. 
"We are thankful the Biden administration is on its way to providing the long-term protections the Greater Chaco Landscape needs, with the Bureau of Land Management poised to finalize an oil and gas leasing withdrawal within 10 miles of Chaco Culture National Historical Park," said Paul F. Reed, preservation archaeologist at Archaeology Southwest. "We have pushed for the 10-mile cultural protection zone since 2016 and are pleased with this very important action. Protecting Chaco from more drilling honors the decades-long effort on behalf of Pueblos, Tribes, and communities to protect the ancestral culture, landscape, and history of the Pueblo people who created this amazing place. The structures, sacred places, and other cultural resources in Chaco Canyon have stood for hundreds of years, and if we do our part and act as good stewards, they can stand for hundreds more."
"Conservation Lands Foundation stands with the Pueblos of New Mexico and the American Southwest in strong support of protecting the Greater Chaco Landscape," said Romir Lahiri, New Mexico associate program director for the Conservation Lands Foundation. "The Chaco region has withstood enough oil and gas drilling. These living landscapes offer an irreplaceable window to the region's history and continue to provide for contemporary indigenous cultures. We thank Secretary Haaland for listening to the local and Indigenous communities leading this effort and ensuring protection for these national and cultural treasures." "The Greater Chaco landscape is a critical part of our collective cultural, historical and biological heritage. Protecting the Greater Chaco is necessary to preserve the region's rare species and ecosystems that are already under pressure from grazing and mineral and fossil fuel extraction," said Ellen Montgomery, Public Lands Campaign Director with Environment New Mexico and Environment America. "Drilling disturbs the habitats of the elk, bobcats, rabbits, porcupines, badgers, wild horses and more than 100 bird species that live in and around the canyon. Not only that, but extracting fossil fuels from beneath the land impacts the health of the people who live there by creating disruptive noise, and bringing in people and equipment that pollute the air, land and water. We urge the BLM to protect the Greater Chaco area by preventing future fossil fuel leases." "NPCA has seen overwhelming support from our members and supporters across New Mexico and beyond for a 20-year ban on new development on federal lands, to protect and help heal this landscape, and we're grateful to join the effort led by Pueblo and Diné organizers and leaders along with fellow community, conservation and historic preservation allies. This withdrawal is an important step toward permanent, broader solutions to protect and avoid causing irreparable damage to the cultural, geological and ecological values of cultural sites, communities and Tribes who live and practice traditional activities across this landscape," said Emily Wolf, New Mexico Senior Program Coordinator for the National Parks Conservation Association. "Chaco Canyon is a spectacular landscape that tells the story of the rich history, culture, spirituality, and resilience of Indigenous communities throughout the Southwest and remains a sacred place for Indigenous people today. It is also home to a diverse array of wildlife and remarkable biodiversity. The Biden Administration's proposed protections from future oil and gas development around Chaco are critical to safeguard this treasure for future generations," said Andrew Black, Public Lands Field Director for the National Wildlife Federation. "Nearly 17,000 of our members spoke out in strong support of the administration's common-sense plan and we urge the Department of Interior to swiftly implement these protections." "We thank Secretary Haaland for her leadership proposing this administrative mineral withdrawal in this one-of-a-kind and sacred place. Greater Chaco constitutes a living cultural landscape to the Puebloan and Diné people. Respect for this alone demands that protections be put in place," said Mark Allison, Executive Director of New Mexico Wild. "Greater Chaco is also important for its night skies, paleontology, remnant wildness, natural beauty, and wildlife habitat. Prohibiting new leasing is critical to combating climate change and improving air quality and public health. New Mexico Wild is proud to stand in solidarity with the All Pueblo Council of Governors and their leadership calling for this crucial step toward providing the Greater Chaco Landscape the protections that it deserves." "The Greater Chaco region is an incredible area that weaves hundreds of years of cultural history, ancestral ties, memories, and traditions within a breathtaking high-desert landscape. This space is of immeasurable significance to the Puebloan and Diné peoples, and continues to be a sacred site for many Indigenous communities today. The continuation of oil and gas development in the Greater Chaco landscape not only directly impacts the health, livelihoods, and cultural integrity of these communities, but also upholds a legacy of federal disregard for Indigenous Sovereignty and self-determination. The proposed mineral withdrawal is a step in the right direction and an opportunity for the Department of Interior to recognize, deliberately engage, and meaningfully partner with Indigenous leaders on the protection and co-management of this space, said Kacey Hovden, New Mexico Program Manager for Nuestra Tierra Conservation Project. "The Greater Chaco landscape belongs to the Indigenous communities of the Southwest, and it is time for land management planning to be centered on the voices of the communities this land is sacred to. We support the proposed mineral withdrawal, and urge our state and federal leaders to actively and deliberately work alongside impacted communities and Tribal Nations going forward." "Today, we stand with the tens of thousands of Indigenous Peoples and others in the Greater Chaco Region and beyond supporting a mineral withdrawal to protect this sacred landscape from more drilling," said Michael Casaus, New Mexico State Director of The Wilderness Society. "This withdrawal would be a reprieve from the threats facing these culturally significant lands and the communities living here today, but there is a vital need to do more to permanently protect these lands and address the health impacts from a legacy of drilling in the region. We urge the New Mexico delegation and the Department of the Interior to work with Indigenous communities to develop permanent protections for these lands and the surrounding communities."
Additional Background:
The proposed withdrawal would only impact federal surface and subsurface land. It would not impact Navajo and private land that is checkerboarded within the zone, so Tribal members who live in the area would still be able to freely use and develop their land.
Additionally, beyond the ten-mile zone around Chaco Culture National Historical Park there are much broader threats to cultural and natural resources and communities in northwestern New Mexico. Over the past few decades, BLM has leased over 90 percent of federal lands surrounding Chaco Canyon for drilling, and oil and gas companies have drilled more than 37,000 wells in the area and built a sprawling network of roads (15,000 miles) that's five times greater than the distance from Los Angeles to New York.
###