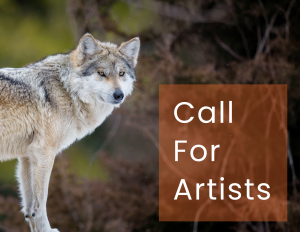 There are only 196 Mexican gray wolves known to survive in the wild and in October of 2022, another endangered Mexican gray wolf was found illegally killed in New Mexico, bringing that number down to 195. Just days before this wolf was discovered, the Western Environmental Law Center filed a lawsuit on behalf of wildlife advocates including New Mexico Wild in defense of the Mexican gray wolf. New Mexico Wild will continue to advocate for Mexican gray wolves and the conservation of the wild places they call home because we believe wolves belong now, and always.
Help Save the Lobo by Tapping Into Your Creative Side!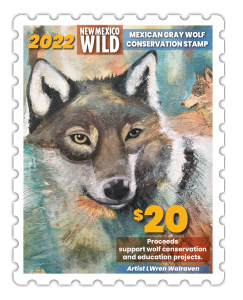 New Mexico Wild invites all artists to submit original artwork for our 2023 Mexican Gray Wolf Conservation Stamp Contest. All two-dimensional drawings, paintings, or photographs featuring the Mexican gray wolf are welcome. Artists of all ages and skill levels are invited to submit artwork! The winning artwork will be printed on the 2023 Mexican Wolf Conservation Stamp and will be sold to support Mexican gray wolf conservation and education programs.
In addition to supporting conservation efforts, the winner will receive 10 stamps, a New Mexico Wild swag pack, a 1-year membership to New Mexico Wild, and a copy of our Wild Guide: Passport to New Mexico!
You can view and purchase winning Mexican Wolf Conservation Stamps from previous years in our online store. We also encourage you to learn more about our work to protect this vital subspecies and explore other ways you can get involved in the recovery of the Mexican gray wolf population in New Mexico!
All artwork must be scalable to the size of the stamp: 4.5-inches wide by 5.5-inches tall.
Please submit high-resolution, electronic images of your original artwork by February 28, 2023 to Devon@nmwild.org.