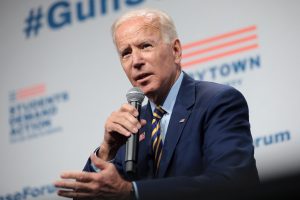 When President Joe Biden visits New Mexico this week, he will witness firsthand unfathomable devastation and loss. The Hermits Peak/Calf Canyon Fire and the Black Fire have burned more than 600,000 acres and forced thousands to flee their homes. These statistics do not even begin to capture the loss and anguish this megafire has wrought on our local communities and New Mexico's wildlife.
The president has pledged to take some steps to address the cause and effects of this fire, notably halting prescribed burns for 90 days and allocating disaster recovery funds, but these solutions miss the forest for the trees.
The cost of these megafires requires real federal solutions and resources. The president and Congress need to seize this opportunity to invest in adequate resources to respond to the climate-fueled drought in order to prevent these megafires. They need to prioritize commonsense forest management strategies that protect people and wildlife alike, safeguard Western watersheds and support programs to make our communities more resilient to wildfire.
Our forests are the lungs of our country, storing carbon and providing one-fifth of our nation's freshwater supply. They are home to diverse wildlife and fish populations. Our forests and grasslands are also vital to our outdoor recreation economy — hunting, fishing, camping and more — which generated $2 billion in economic activity last year and created nearly 26,000 jobs in New Mexico.
Now, with statewide forest closures, many people are taking advantage of our spectacular Bureau of Land Management lands, such as the Caja del Rio. These lands also need additional federal investments to prevent wildfire and to safeguard wildlife habitat. We need to better manage our forests and grasslands to increase their ability to deliver clean water, boost carbon storage capacity, strengthen wildlife populations and expand recreation opportunities.
Investing in restoring our forests and public lands is long overdue. More than a century of fire suppression has increased the size, intensity and frequency of wildfires and experts predict that fire conditions will only get worse unless we act. Disease and invasive species — which are fueled by climate changes — further degrade our forests. Last year across the nation, more than seven million acres of land were burned by wildfire. It doesn't have to be this way.
To address the climate crisis and make communities more resilient to wildfire, we must substantially increase the pace, scale and quality of collaborative forest restoration programs for our forests. We must develop forward-looking goals for management that builds on an understanding of traditional ecological knowledge of the landscapes and also anticipates future climate-related changes. We need to collaboratively manage and restore our forest in the context of larger landscapes and work across jurisdictions with federal, state, tribal and private partners so that all of our lands become more resilient and healthier for future generations to enjoy.
The bipartisan infrastructure bill that was passed last December in Congress contained investments to restore lands and watersheds by cleaning up abandoned oil and gas wells. Now Biden and Congress need to take the next step and invest in the restoration of our forests and grasslands. Landscape-scale restoration projects will create good jobs in local communities that most need an economic boost. These projects ultimately are less costly than paying to fight fires and rebuild communities that are devastated by fires.
President Biden, New Mexicans are counting on you to be a conservation leader. Please act to mitigate impacts from climate change, provide resources to rebuild our communities and protect them from wildfire, boost biodiversity, safeguard water supplies and create good jobs in local communities. Our future depends on it.