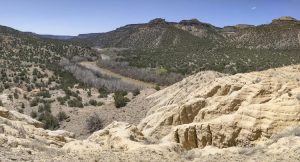 By Matt Dahlseid | April 8, 2022
Centuries of history reverberate across the dramatic landscapes of the Caja del Rio, where whispers from the past make their presence felt throughout the rugged volcanic plateau that lies between the expanding city of Santa Fe and the Rio Grande.
The Caja's story has been written in petroglyphs and wagon tracks by the ancestors of today's Pueblo and Hispano people, groups that still live near the plateau and understand its significance. Its grandeur has been captured in film and held up to the world as an iconic Western setting.
And yet, now federally managed as public land, the 100,000-acre Caja del Rio has been often overlooked and at times abused in its recent past and present by locals who live on its doorstep.
The Caja has different meanings for different people. In the past decade or so, with new infrastructure leading to improved access, more people across a variety of user groups are finding out what it means to them.
"This is where I come to breathe," said Deirdre Monroe while atop her white Arabian quarter horse, named Joe, on a recent April afternoon.
Monroe first went riding in the Caja del Rio with a friend in the mid-1990s before the completion of N.M. 599 west of Santa Fe allowed for easier access. At the time, a very small number of recreationists took on the trouble of navigating a network of rough unpaved roads to find their way onto the land.
Primarily used for cattle grazing, there was a sprawling spider web of dirt roads and trails on the Caja but not a useful map to help riders, hikers or bikers make sense of it all. In a way, the lack of direction was part of the appeal for Monroe.
The thrill of exploring the mesas, rolling hills, steep canyons and open grasslands drew her out weekend after weekend. A research and development engineer at Los Alamos National Laboratory, Monroe purchased a GPS device and loaded her tracks into National Geographic TOPO software, eventually producing a commercial map and user guide that has become a valued resource for recreationists searching for trails best suited for them.
"We'd keep going back and going back to try to find trails and loops," said Monroe, who mapped more than 200 miles of trails. "It was fun to develop a picture of what was out there."
Now retired and in her upper 60s, Monroe has been regularly riding the Caja del Rio for some 25 years and has become one of its most passionate advocates while working to foster positive and productive relationships among its user groups.
About 67,000 acres of the Caja are managed by the Santa Fe National Forest. Most of the remainder of the plateau's 100,000 acres falls under Bureau of Land Management jurisdiction.
Monroe has maintained steady dialogue with both entities, along with the land's longtime grazing permittees and various other groups, while spearheading projects meant to improve recreational access.
"She's one of the first people, other than the ranchers out there, who kind of came with a vision of what it could look like and put her heart and energy into trying to get that to happen," said Sandy Hurlocker, who was district ranger of the Santa Fe National Forest's Española Ranger District for 15 years before retiring in October.
When he became district ranger in 2006, Hurlocker said, the Caja seemed like a "no man's land" or "Wild West," with hot spots where people would dump broken-down vehicles or old appliances and some recreational shooters would litter the ground with spent shell casings and put holes in livestock water tanks.
Limited resources have meant limited patrol and enforcement over the large swath of land. The harmful activities haven't been eliminated, but Hurlocker said there has been a noticeable improvement over time.
"I wouldn't go too far out there to say it's tamed at all, but it's moving in a good direction, and [Monroe] has been a big part of that. She's laid a lot of the groundwork," Hurlocker said.
Monroe has a certain philosophy when it comes to the matter.
"One of the big things about proper recreational use is it chases out the bad guys," she said.
And so improving the experience of the Caja's user groups to encourage visitation of more responsible recreationists has been a top priority for Monroe.
In the mid-2000s, she put in a grant application for funds to provide enhancements at what's known as the Headquarters Well Trailhead on the Caja's eastern boundary that's managed by the Santa Fe National Forest.
Monroe, an AERC New Mexico State Trails Advocate who has won multiple volunteer of the year awards for her work, said in recent years the trailhead area has become particularly popular with campers and RVers due to the proximity to Santa Fe and good cell reception.
It's a development forest officials hadn't anticipated. Hurlocker said establishing a dispersed campground with designated sites to prevent further damage to the grasses and vegetation in the area is something that's been under consideration by Santa Fe National Forest officials.
The Headquarters Well Trailhead will be the starting point of an AERC-sanctioned endurance event April 30 that will feature 25-mile and 50-mile courses for riders, as well as a shorter course for beginners. Since 2004, Monroe has been an organizer of annual endurance rides on the Caja del Rio and helped promote the area as a top equestrian destination in the country.
Julian Gonzales has known of the splendor of the Caja his whole life. A grazing permittee with the Caja del Rio La Majada cattle cooperative along with about 10 other members, he said his ancestors came up to the Caja four centuries ago on the Camino Real del Tierra Adentro (Royal Road of the Interior Land), which connected Mexico City with Ohkay Owingeh near present-day Española during the Spanish colonial era. The national historic trail comes through the plateau's south end at La Bajada Mesa and passes through the northern tip at Diablo Canyon, both signature features of the Caja.
For most of his life, Gonzales said, the Caja del Rio felt like a secret to a select few.
"Nobody even knew about it unless your parents had taken you out there for collecting wood or piñon or for hunting, or you were linked to the land by running livestock," he said.
The secret has been gradually getting out over the past decade.
While he has concern for the area due to Santa Fe's westward expansion and encroaching development, he doesn't begrudge the user groups that have found their way out to the plateau. He only asks they show respect for the land.
One concern he has is off-highway vehicles. Gonzales said some OHV users have been driving on non-inventory roads and making up their own roads, sometimes damaging the land and grasses.
"As people become educated, they'll start to do the right thing," Gonzales said. "There's already a ton of working groups with a lot of stakeholders that are trying to figure out the rules and regulations for OHV users in the Caja."
The various user groups tend to get along well for the most part, Gonzales said, particularly the members of the cattle co-op and the AERC. AERC grant money has gone toward upgrading cattle gates, and members have helped with roundups and alerting ranchers when cattle are loose.
With increased visitation of the Caja, stakeholders and nonprofit environmental organizations have been pushing to gain support for increased federal protections.
"The use and the visibility of the Caja has gotten to the point where we need to consider the long-term preservation and management of the area," Monroe said.
Gonzales, who is also the Northern New Mexico grassroots director for New Mexico Wild, said various groups have been discussing what designation should be sought in order to gain added federal protections to preserve cultural, environmental and historical resources — for example, a national conservation area.
Late last year, following vandalism at the La Cieneguilla Petroglyphs, the All Pueblo Council of Governors passed a resolution affirming "the historic importance of the Caja del Rio as a significant cultural landscape" and called for all entities and New Mexico's congressional delegation to take swift action to protect and preserve the area in consultation with tribes and pueblos.
In diving into her passion for the Caja, Monroe said she has valued the process of building relationships with its many stakeholders. She hopes the collaboration continues to ensure future generations are able to enjoy the land as she has.
"It's been a labor of love," Monroe said. "We just need people to be involved in trails and working with others.
"I think the Caja has been a poster child for people getting along."