At New Mexico Wild, we believe that wolves belong so it is troubling to learn that the outgoing Secretary of the Interior David Bernhardt has issued a ruling to strip protections from gray wolves in all 48 lower states. While the order doesn't apply to the Mexican gray wolf subspecies found in New Mexico, the decision affirms that there is still work to do to protect wolves from bad management and illegal killings.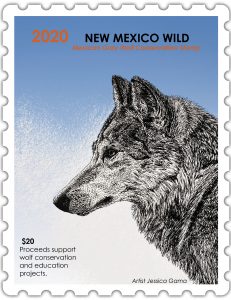 There is a way you can help us save the lobo, and it involves tapping into your creative side!
New Mexico Wild invites all artists to submit original artwork for our 2021 Mexican Wolf Conservation Stamp Contest. All two-dimensional drawings, paintings, or photographs featuring the Mexican gray wolf are welcome. The winning artwork will be printed on the 2021 Mexican Wolf Conservation Stamp and will be sold to support Mexican gray wolf conservation and education programs. All artwork must be scalable to the size of the stamp: 4.5-inches wide by 5.5-inches tall.
You can also purchase the winning Mexican Wolf Conservation Stamp from previous years in our online store. We also encourage you to learn more about our work to protect this vital subspecies and other ways you can get involved in the recovery of its population in New Mexico.
Please submit electronic images of original artwork by February 28, 2021 to tisha@nmwild.org.