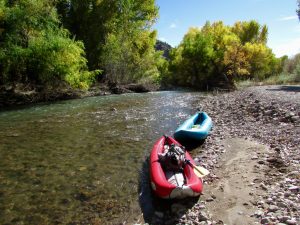 Senators Udall, Heinrich introduce bill with broad support from southwestern New Mexicans
ALBUQUERQUE (May 12, 2020) – New Mexico Wild is celebrating legislation introduced by U.S. Senators Tom Udall and Martin Heinrich to protect the Gila, San Francisco and East Fork of the Mimbres Rivers under the Wild and Scenic Act. The M.H. Dutch Salmon Greater Gila Wild and Scenic River Act designates approximately 446 miles of river segments as Wild, Scenic or Recreational, permanently protecting these rivers in their free-flowing conditions.
"There is no greater gift we could leave our grandchildren than the permanent protection of New Mexico's last free-flowing river, whose headwaters start in the birthplace of America's first designated Wilderness," said New Mexico Wild Executive Director Mark Allison. "This bill honors the original vision of Aldo Leopold and river champions like the late Dutch Salmon, without whose efforts this river we love would have been greatly diminished. As New Mexicans struggle with the fear and heartbreak from the pandemic, we realize now more than ever how irreplaceable our natural and cultural heritage is. We thank Senators Udall and Heinrich for their leadership and for this gift of hope for the future."
"The Gila River is an irreplaceable New Mexico treasure," said Udall, ranking member of the Senate Appropriations Subcommittee on Interior, Environment and Related Agencies. "The Gila is one of the last wild rivers in the Southwest, it is one of the most biologically diverse watersheds in our state, and it is one of New Mexico's most iconic outdoor destinations – fueling our outdoor economy. As we all gain a deeper appreciation for access to the outdoors and our dependence on the natural world during this difficult time, protecting unique ecosystems like the Gila watershed is more important than ever. Support for protecting the Gila is deep and widespread. This legislation is a ray of hope for the future, and it will help to build and protect local economies at a time when they need it the most. New Mexico families have enjoyed the natural beauty of the Gila alongside traditional uses for generations, and by working together, we can pass on that shared heritage to future generations. My father, Stewart Udall, helped to enact the Wild and Scenic Rivers Act because he knew that preserving wild places was the right thing to do for our children and our economy. This balanced legislation, developed after extensive outreach and taking into account a diverse array of New Mexico voices, will permanently protect the Gila's traditional uses and benefit the regional economy for the long term. After listening closely to New Mexicans, we are beginning the formal legislative process – introducing legislation that will preserve the Gila River for generations to come."
"If any place deserves Wild and Scenic River designation, it's New Mexico's Gila River. There are very few places left on Earth where you can understand what the saying 'water is life' truly means," said Heinrich. "I can think of no greater example than the headwaters of the Gila—a place near and dear to my heart and special to so many New Mexicans. Nearly 100 years ago, the spectacular landscapes and ecosystems shaped by these waters inspired the establishment of America's first wilderness area. It is long past time that we offer the highest form of protection to these waters that New Mexicans have long valued. Wild and scenic designation will permanently protect the Gila's free-flowing segments, attract more visitors to southwestern New Mexico, and grow our outdoor recreation industry. I've been proud to work with Senator Udall and community leaders to develop legislation with widespread support from local stakeholders in southwestern New Mexico. Passing this legislation is the best way for us to conserve the wild and scenic characteristics of this watershed for future generations and to honor the legacy of all of the New Mexicans, like Dutch Salmon, who devoted their whole lives to protecting the Gila."
The legislation introduced by Senators Udall and Heinrich to add nearly 450 miles of the Gila, San Francisco, and East Fork of the Mimbres Rivers to the nation's Wild and Scenic Rivers System has broad, grassroots support of tribes, faith leaders, private property owners, local governments, civic organizations, sportsmen, nonprofits, and more than 150 small businesses in Grant County and surrounding communities. Additionally, recent polling found that more than 76% of voters across New Mexico are supportive of legislation to protect these rivers through Wild and Scenic designations.
The Wild and Scenic Rivers Act, which provides the framework for the protections outlined in today's legislation, was passed by Congress in 1968 to provide federal protections for the nation's free-flowing rivers that possess "Outstandingly Remarkable Values." The Act: ensures water quality is maintained and, where possible, enhanced; restricts activities that would harm a river segment's special values for which it was specifically designated; and prohibits the construction of new federally-licensed dams and other water development projects that could impact designated segments.
The Gila River is New Mexico's last remaining free-flowing river. It is a popular destination for outdoor enthusiasts, offering opportunities to fish, hunt, hike, kayak, camp, picnic, view wildlife and more. The popularity of these segments is an important economic driver for the communities in southwestern New Mexico, as many businesses in the region rely on revenue from outside visitors traveling through communities like Silver City to access entry points to the Gila and San Francisco Rivers. Recent data released by the New Mexico Outdoor Recreation Division found that the state's outdoor economy is an important and growing sector, accounting for $1.2 billion in income and more than 33,500 jobs in the state annually.
###
ABOUT THE NEW MEXICO WILDERNESS ALLIANCE: The New Mexico Wilderness Alliance or "New Mexico Wild" is a non-profit 501 (C)(3), independent, homegrown, grassroots, conservation organization dedicated to the protection, restoration and continued respect of New Mexico's wildlands and Wilderness areas. With staff and thousands of supporters throughout the state, New Mexico Wild is dedicated to the rights and the value of citizen involvement in protecting increasingly rare wild places within public lands. Just as freedom is every American's birthright so too is Wilderness.