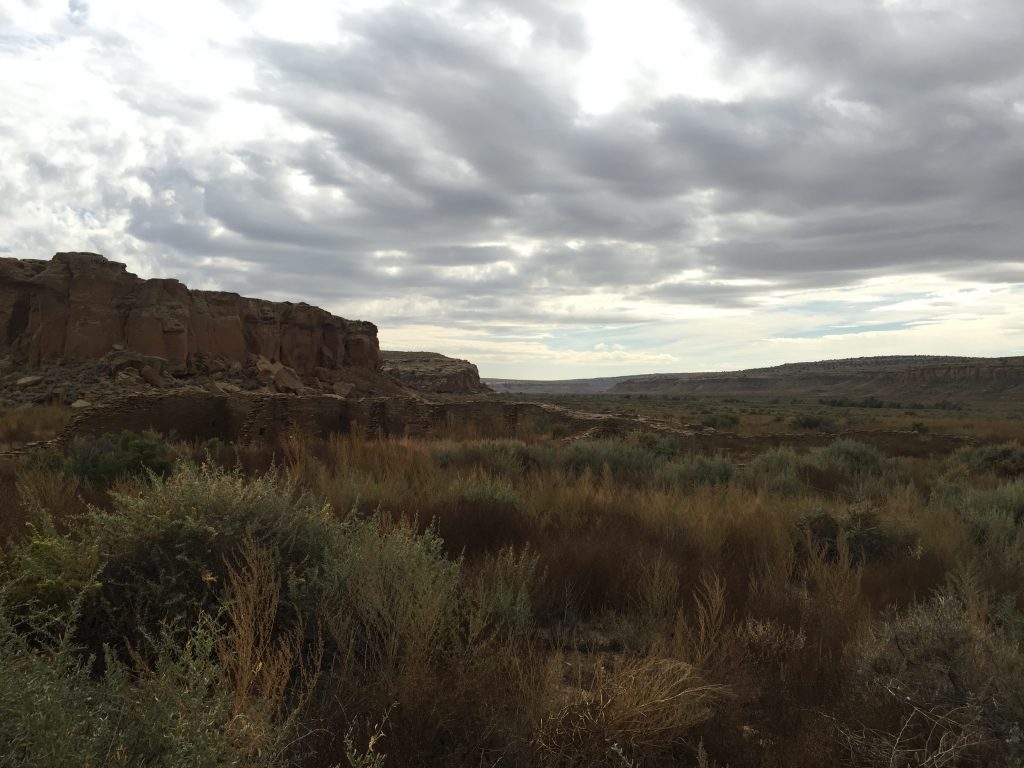 ALBUQUERQUE, N.M. – Despite calls from Pueblo and Navajo leaders, the New Mexico delegation, conservation groups and countless others to extend the period for public comment until such time as there could be meaningful, in-person, public input on the Bureau of Land Management's (BLM) Draft Farmington Resource Management Plan Amendment (RMPA), Secretary Bernhardt refused to do so, and the comment period closed today. The ongoing pandemic has prevented tribal leaders and members from participating in face-to-face consultations with BLM. Those consultations are required by federal law, and must take place before BLM moves forward with this planning process.
In response, nearly a dozen groups jointly submitted comments today that reiterated the need to pause the planning process and also called on Interior Secretary Bernhardt and BLM to reverse course and close federal lands surrounding Chaco Culture National Historical Park (NHP) to future drilling, as well as adopt significantly stronger measures to protect cultural resources and tribal communities from the impacts of drilling.
The BLM's preferred alternative would add between 2,300 and 3,100 new oil and gas wells in the Greater Chaco region within an area that is already more than 90 percent leased, which ignored long-standing opposition from the All Pueblo Council of Governors, federal and state officials, and many other stakeholders to additional drilling, particularly near Chaco Culture NHP.
The comments submitted read, "For too long, oil and gas development has been prioritized at the expense of northwestern New Mexico's cultural landscapes, natural resources, and native communities. A paradigm shift is needed to restore cultural landscapes and natural ecosystems, as well as to protect native communities and undeveloped lands."
A coalition of local and national organizations released the following statements regarding the end of the comment period:
"We have provided comprehensive comments to the Agencies on the shortcomings of their RMPA and EIS documents. But, we do so under protest," said Paul F. Reed of Archaeology Southwest. "It is appalling that this supposedly public process has continued with the ongoing pandemic, and the resulting inability of impacted Tribes and Pueblos to meaningfully participate."
"Once again, Secretary Bernhardt is putting profits ahead of the people, and is failing to recognize the impact of the pandemic on tribal communities who hold Chaco Culture National Historical Park sacred," said Brian Sybert, executive director of Conservation Lands Foundation. "The Farmington management plan should be paused until meaningful, face-to-face consultations between tribal communities and BLM can be held, as required by law."
"The BLM has ignored its own mission and obligations while disregarding the public and Tribes advocating for a fair process and protection of irreplaceable cultural areas," said Nada Culver, Vice President for Public Lands for the National Audubon Society. "BLM should be planning to safeguard this landscape for future generations not risking its destruction."
"BLM's plan poses a real threat to Chaco Culture National Historical Park, as well as the cultural sites, communities and landscape of the greater Chaco region that is sacred to many Tribes," said Ernie Atencio, southwest regional director for National Parks Conservation Association. "We urge BLM to listen to the overwhelming voices of the public and Tribes calling for an alternative that protects and preserves this place, rather than drilling and destroying it."
"A comprehensive land management strategy is necessary to protect the world-class cultural resources within the Greater Chaco Landscape. However, the BLM's preferred alternative would allow inappropriate mineral leasing and development that could cause irreparable harm to this place," said Tom Cassidy, Vice President of Government Relations for the National Trust for Historic Preservation.
"The Bureau of Land Management process during this time of heartbreak was shameful. It's preferred alternative is cynical. Ignoring the true value of the public lands near this UNESCO World Heritage Site, and the wishes of the communities who live there, would be compounding a tragic history of disrespect and broken trust," said Mark Allison, Executive Director of New Mexico Wild. "When Secretary of Interior Bernhardt visited last year, he said he walked away with a deep respect for this magnificent area. It is now in his hands to live up to those words and demonstrate that he truly does respect this irreplaceable land and its people and we call on him to do so."
"The New Mexico Wildlife Federation is deeply saddened by the lack of respect shown for the natural and cultural resources by the Bureau of Land Management. Tribal consultation should be a top priority when considering decisions that affect the very people who have lived in this awe inspiring region for generations. The entire hunting community relies on healthy habitat and robust wildlife populations to preserve our traditions. Efforts by this Interior Department to prioritize destructive extraction over resource protection cannot be effectively prevented without the opportunity for our communities to participate in a proper public process," said Jesse Deubel, Executive Director New Mexico Wildlife Federation.

"Despite countless calls for delay, Interior closed the comment period on their proposal to prioritize drilling within a 10-mile radius of the historical park. It's been sickening to watch Interior continue an inequitable public process at a time when frontline and indigenous communities are suffering from the COVID-19 pandemic and unable to provide meaningful input. We stand with Tribal Nations and urge Secretary Bernhardt to change course, provide meaningful tribal consultation, and protect this sacred place and the health of nearby communities from disastrous oil and gas drilling," said Michael Casaus, New Mexico State Director for The Wilderness Society.
Background on Chaco Canyon:
Chaco Canyon—a portion of which is now designated the Chaco Culture NHP and is a UNESCO World Heritage Site—centuries ago was the center of a thriving society that flourished in the Four Corners region. This society left behind a vast and sacred landscape that is rich in cultural resources, which is today integral to the individual and collective living identity of the Pueblos, the Navajo Nation, and other tribes whose ancestors inhabited that landscape. This living cultural landscape holds thousands of ancient structures and archaeological sites and other cultural resources — some of which have yet to be documented. More than 90 percent of public lands within the area are already leased for oil and gas drilling, and Greater Chaco is at risk of being destroyed by drill pads, pipelines, and a web of industrial access roads.
###